INFO STUFFS
Ableton and Serato, bridged at last!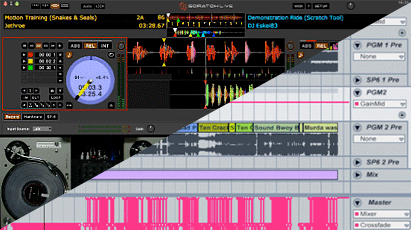 Today Ableton announced The Bridge, software designed to "bridge the gap" between DJ and live performances. Now DJs and producers can view and control Live through Serato or record full sets from Serato into Live – including automations from faders, eqs and crossfader – allowing you to free up a "third deck," record, loop and tweak into live on the fly or simply polish and glitter up a studio DJ mix. This is a super cool tool and allows even more room for creativity in live performance. I'm excited to see how people utilize it.
Only drawback is that in order to record full automation, you're required to use the TTM-57SL or the Sixty-Eight, neither which are cheap, but as the mother-of-all-DJ-mixers, the Sixty-Eight is a worthwhile purchase. I've been lusting after one ever since its demo at Photosynthesis… it almost makes my Xone:92 seem like a well-traveled DJM-500. Don't worry Allen & Heath, I sill love you dearly, but even you have to admit the mixer is freaking cool.
The Bridge software is free for anyone who already owns registered copies of Serato and Live. If you don't yet own Live 8.2, Ableton has 30-day demos on their site that will allow testing of whole setup. I fully encourage everyone to at least hit up the Abelton site and watch the demo videos they've got.