INFO STUFFS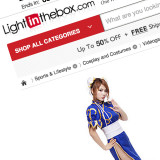 Normally when I have bad experiences with companies, I contact them directly. In some cases I may post to their social media if I don't get anywhere with them resolving issues, and other times I may write a review. But this… this… this made me uppity enough to actually say something outside their own review system. Seriously, the nerve! So here you go, my experience with lightinthebox.com.
I decided to do Chun Li for Halloween this year. I do cosplay from time to time, so wanted one of these costumes anyway, but like most costumes I do, I want them to be good, not cheaply made and shoddy drugstore costumes. I spent a good few days online looking for a good quality one – one that held true to the actual character, seemed well made and would fit right (or at least would be able to have taken in at key points to make it fit right). Most online were crap, but there were a couple that looked perfect and were made to order. Of those, there was only one that shipped to the states.
I ordered it on October 8th, and in the order notes specified that I was ordering it for Halloween and needed it by October 28th. Shipping was 3 days, and I asked them to confirm the ship date so I could either pay to expedite the order or cancel it. Easy enough, right? Well, of the three places I ordered from (costume, spiked cuffs and boots) none of them actually listened to my request for communication in the order notes. Not surprising (seriously, why do companies even bother including order notes if they don't even read them??) and none of them got to me in time. In fact, all but the wrist cuffs shipped AFTER October 31st. The difference between the other two and these guys? The other two actually sent me the item depicted and described on the website.
About a week before Halloween when I hadn't received anything I wrote customer service. They never responded. In fact, they STILL haven't responded to my inquiry about fulfillment time or delivery. When I finally got the item and it wasn't even a complete costume (not at all what was in the image or described on the website) I got upset and wrote a review to warn other people that what ships is not what's on the page. What happens next? They respond the same day. Not to apologize, not to see how the issue could be resolved, but to say "Fine, give it back. Now change your review."
Like… just… I mean… SERIOUSLY?? The asshats over at Light in the Box need to check demselves. So fuck it, I'm telling everybody. Dicks.
What follows is the whole interaction from review to me telling them to go to hell, including images of their item on the website and the one they actually shipped. Jerks.
 ———————————————————————

My Review (1/5 stars) – November 4th:
the actual item is not as depicted. first, it has no gold design on the front or back. second, the splay on the arms are WAY longer than they are in the photo… they look cartoony and strange; more like a jester's costume than chun li. the neck is REALLY big… probably twice the size it needs to be and the sash isn't a stretch fabric, it's satin. it only has velcro on the top and bottom, so when it's attached, not only does it not hug your waistline (making you look very square) the part where it's connected puckers out a little bit, making it look cheap and like it would easily catch on something and pull right off.

the cut is strange. i am 36/29/36, 5'7, which put me at an XXL. the bust fits right, as do the hips (maybe a *little* big, but i'd rather take in than have it be too small). the waist needs to be taken in a little bit, which i expected, but the shoulders are WAAAAAAAY wide. it almost wears like it was made for a man, whose shoulders are wider than their chests. the shoulders need to be taken in about 2-3in EACH SIDE. what woman has shoulders that much wider than their bust????

overall i'm really unhappy with this costume. after paying the $70 AND ~$40 shipping fee, [i need to updated this bit, shipping amount was wrong] i am going to have to take it to a seamstress to have them fix it and make a new sash which is going to put me at around $150-200 total for this costume.

on the plus side, the actual dress is very well made. the fabric is good and the sewing is solid. the hair pieces are also well made.

delivery was another issue. i ordered it on october 8th and specified in the notes that i needed it by the 28th (for halloween). i instructed to let me know if it was going to be late so i could pay rush charges or cancel the order. well, i heard nothing from customer service and it didn't even ship until october 31.

if this hadn't shipped from china and would be a hassle to find another option i would return it. but i am certainly NEVER ordering anything from this website again. ever.

*product id: 1753323 (from review)

——–

November 4th:

Dear Customer,

Thank you for your response. Please return the package to us within 7 days through UPS according to the instruction below, you'll not be charged the shipping fee for this package. We'll refund 【80.86 USD】to you after receive your package.

First Step: Please print the Return Label in following link and stick it OUTSIDE of the package, the RMA code has already been marked at the bottom of the Label. Please make sure that the RMA code could be clearly shown since it's the ESSENTIAL part of identifying your package, otherwise we're UNABLE to identify the owner or process the refund/replacement.

Return Label Link: https://www.ups.com/u.a/L.class?8E…

Second Step: choose one method to return the package:
1. Leave the box to nearby UPS Store, you can find the closest service location here:
https://www.ups.com/dropoff?autosubmit=1&loc=en_US&appid=NES&country=US…

2. Schedule a Pickup by phone: 800-742-5877.

Once it is delivered and identified, we'll arrange the refund or replacement based on the agreement in 5 Business Days and we'll submit a new Ticket to inform you that.

NOTE:
1.Please pack items carefully to avoid second damage during transportation, especially items with screen. (For electronics products, please remove all password or personal information, and put all original accessories in package)
2. The return address Baylink is a Third PARTY SHIPPING WAREHOUSE who ONLY accepts packages. It DOES NOT handle any after-sales issues. Please contact us if you have further questions.

Additionally, it will be very kind and helpful if you could update your review and rating on this product, which will in turn give more comprehensive information to other customers about the product performance and the customer service. We would really appreciate it since it is also very important to us to further improve our service. It is always our goal to provide our customer the best service.
Here is a picture instruction which shows the steps to update your review.
https://www.lightinthebox.com/download/5b4f96a1-c86d-47ac-90be-e50fd2497e9a
Again we apologize for all the inconvenience caused. We hope we can serve you again in the near future.

Sincerely
Pinni
LightInTheBox Customer Service
————

November 5th:
absolutely not! you guys didn't respond to my inquiry when i was actually having a problem, but i actually tell someone and you respond SAME DAY?? you can't only address issues when people write a poor review, you have to address problems BEFORE they become a terrible experience. had you actually responded to me over a week ago when i initially wrote, this wouldn't be an issue, but you ignore it and now try to play damage control? that's not customer service, that's trying not to get caught.

not only that, you don't apologize for ANY of it! the only thing you do is ask me to change my review. "Again we apologize for all the inconvenience caused" is not an apology. furthermore, "again" indicates that there was an apology at some point before this sentence, which there wasn't.

you will, however, be receiving this item back. i'm still floored at how horrible this all wen; this immediate response to my review with actual solutions is just insult to injury.

in the future i suggest you actually read your customers issues and address things as a human and not as a bot sending canned responses to poor reviews. it may also be a good idea to pay attention to the goods you are actually selling people. it's a shame, since you have a lot of really great stuff on your site. but after this, not only am i unsure what i'm ordering is what i'll actually get, i have ZERO faith that any issues will be addressed by your company.