INFO STUFFS
New double-disc comp for old school dance music lovers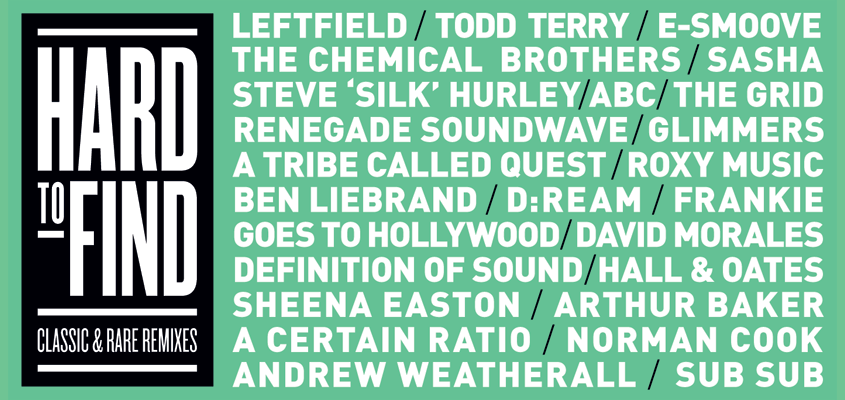 Hard to Find Music has a new double-disc comp on the horizon full of rare and beloved dance classics. Old school house, acid house, hip house and other tunes of that era harken back to the early days of dance: The Warehouse, The Limelight, Heart & Soul… These tracks are very hard to find and if you can get your hands on an LP get ready to spend a pretty penny. If you consider yourself a trainspotter and don't need a stylus to play music, this series is most definitely for you.
DJ historian and journalist extraordinaire Bill Brewster writes the sleeve notes explaining the concept behind the album:
"With Hard To Find, we've sent our vinyl archaeologists to sift through the wreckage of acid house, throwing aside the Alison Limerick double packs and long-forgotten Shamen promos to bring you the gold (the only fool's gold we'd permit would be by Stone Roses). But not only are these the very best of the remixes from the most creative period of house music, we like to think they define it, too. As if that were't sufficient, many of them have never been made available on CD before."
Spread over two CDs, Hard To Find features cherished tunes from years gone by, without which the new breed of today would have struggled for inspiration. For anyone who grew up listening to Jeff Young's Big Beat and Pete Tong's Essential Selection from the late 80s through to the 90s or Annie Nightingale's Sunday night request show, this album is full of buried treasures.
Hard to Find will be available both as a 2CD package and digital release (streets Aug 16) and is now available to pre-order now. There's a mini-mix on YouTube (below for your listening pleasure) and iTunes for a little tasty-taste
DISC 1
William Orbit – Water From a Line Leaf (Underwater Mix Part One) (Remixed by Underworld)
It's Immaterial – Driving Away From Home (Wicked Weather for Walking)
Beloved – The Sun Rising (Deeply Satisfying)
Neneh Cherry – Buffalo Stance (Nearly Neue Beat) (Remixed by Arthur Baker)
A Certain Ratio – Won't Stop Loving You (Norman Cook Remix)
Saint Etienne – Only Love Can Break Your Heart (A Mix Of Two Halves) (Remixed by Andrew Weatherall)
Bassomatic – Fascinating Rhythm (Claudio Caniggia Mix) (Remixed by Renegade Soundwave)
The Grid – Floatation (Sonic Swing Mix) (Remixed by Andrew Weatherall)
Hall & Oates – I Can't Go For That (No Can Do) (Ben Liebrand Remix)
ABC – The Look of Love (US Remix) (Remixed by Trevor Horn)
DISC 2
A Tribe Called Quest – I Left My Wallet in El Segundo (Norman Cook Independence Mix)
Simply Red – Something Got Me Started (Steve "Silk" Hurley's Club Mix)
Definition of Sound – Moira Jane's Café (E-Smoove's Groovy Mix)
Sub Sub – Space Face Techno Todd Dub (Remixed by Todd Terry)
Leftfield Lydon – Open Up (The Chemical Brothers Remix)
Sheena Easton – 101 (Def House Mix) (Remixed by David Morales)
D:Ream – UR The Best Thing (Sasha Full Mix)
Stereo MC'S – Step It Up (Stereo Field Dub) (Remixed by Leftfield)
Roxy Music – Same Old Scene (Glimmers Remix)
Frankie Goes To Hollywood – Welcome To The Pleasure Dome (Fruitness)