INFO STUFFS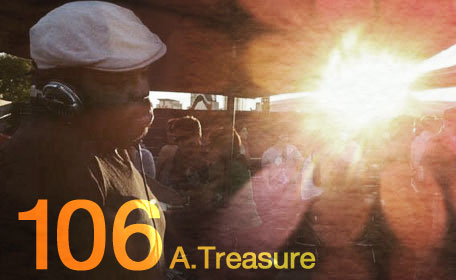 NAME
A. Treasure
CITY
Seattle
AFFILIATIONS
City Soul / Trust / Justice & Treasure
GENRES
LINKS
AIRED
November 16th, 2011
MIX DESCRIPTION
Soulful house on the deeper side with, west coast and Detroit influences
BIOGRAPHY
A.Treasure (formerly Atlee), is one half of the duo Justice & Treasure, formerly known as SunTzu Sound, a Seattle based DJ collective. A.Treasure has dedicated over 15 years to soulful explorations in dance music—from old to new, head nodding beats to House, jazz, funk, hip hop, and more. As hosts residents of "Trust" alongside KID HOPS, Justice & Treasure drop a mix of sophisticated sounds unbound by genre. Trust has been frequently been called Seattle's most fun dance party where you'll never know what to expect, but you'll always be coming back for more.
Justice & Treasure also serve as the weekly hosts of Friday night's City Soul on KBCS 91.3 FM and are fueled by a faithful following in the Northwest and around the globe. The duos tireless efforts have made them an indispensable mainstay in Seattle, where they regularly book and promote top-shelf international talent. Between various Seattle residencies and frequent dates across the United States, A.Treasure has played alongside celebrated artists Kyle Hall, Rich Medina, Trus'Me, Bugz in the Attic, Jazzanova, DJ Krush, Osunlade, and many others. Past touring engagements include parties at the Winter Music Conference, Movement: Detroit's Electronic Music Festival and Seattle's own Decibel Festival as well as renowned clubs in S.F., LA, Miami, and more.
A.Treasure put together a mix with his signature style, of eclectic, fun, and forward thinking dance music. His penchants for old-school and sultry deep house are marvelously combined with a true to self, style.
TRACKLISTING
Love Has Come Around - Donald Byrd
Hot Music - SOHO
Fallin' From The Sky - Soul Clap
Same Same - Erdbeerschnitzel
Let's Go - FCL
Forever & A Day - Franc Spangler
In My Life - AFMB
Look Right Through (dub) - Storm Queen
This Is Love (Rainer Trueby remix dub) - Eddy meets Yanna
Lookin' At Blue - Exist
D2ME - Andy Hart & Francis Inferno Orchestra
Something for the Weekend (The Revenge Keep Up Dub) - Ben Westbeech
Just Think About - Mario Basanov feat Miss Bee
Falling Out (Honey Soundsystem Remix) - Body Language
LOVE (Smallpeople remix) - Motor City Drum Ensemble
Once In A While - Lone
Pacific - 808 State
Want You In My Soul - Lovebirds feat. Stee Downes