INFO STUFFS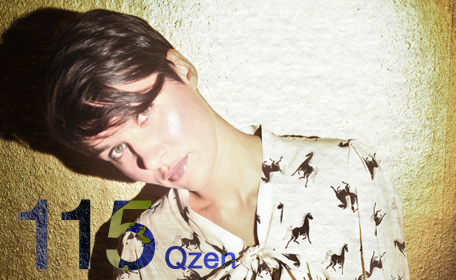 NAME
Qzen
CITY
Berlin
AFFILIATIONS
GENRES
Electro / Tech-house / Techno
LINKS
website / soundcloud / facebook
AIRED
February 8th, 2012
MIX DESCRIPTION
Stompy techno and tech-house with electro and Detroit overtones
BIOGRAPHY
Born and raised in California, Qzen is a music producer, song-writer, vocalist, and DJ. She has a sincere love for music that's emotive, sophisticated, bass conscious, and tends to both one's body and mind. Her sets span the genres of house and post-dubstep, dipping into electro and techno, though she really doesn't care about what it's called; if it's good, she'll play it.
Qzen's been DJing twelve years —everywhere from Mexico to Belgium, clubs to kitchen counters, Decibel Festival to Low End Theory — and has performed live at renowned festivals MUTEK Buenos Aires and MUTEK Montreal, as well as GAFFTA in San Francisco. You may know her voice from John Tejada's classic "Sweat (On The Walls)" or the 40 Thieves heater "Don't Turn It Off," both of whom she worked with on several additional releases. In 2011, she released a production on Klasse Recordings, a collaboration with Sacha Robotti, and her vocal collaboration with Guillaume & the Coutu-Dumonts is out now on Oslo.
She currently lives in Berlin where she continues to work on original music.
TRACKLISTING
Pional - Alabama Dice - Permanent Vacation
Crackboy - House of Ill Fame - Tigersushi
Roberto Bardini - Killing Deeply (Rio Padice Mix) - Exprezoo
Matthew Leutwyler - Ahuevo! - Internasjonal
Saarid - Fever Dream - Throne Of Blood
Trevino - Backtracking - unreleased
Matias Aguayo - Dance Machine - Kompakt
Javier Logares - Silicon Drift - Get Physical
Jon Convex - Closer - Convex
Eamon Harkin - Rigor Music (Roman Flügel Remix) - Throne Of Blood
Kresy - Many Man - Hivern Discs
6th Borough Project - Iznae - Delusions Of Grandeur