INFO STUFFS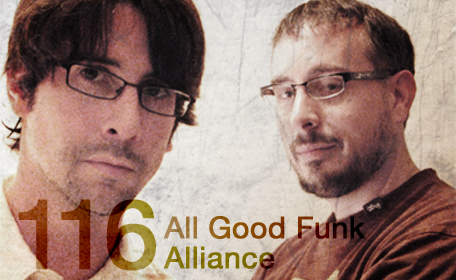 NAME
All Good Funk Alliance
CITY
Alexandria
AFFILIATIONS
Funkweapons / Fort Knox Recordings
GENRES
LINKS
soundcloud / twitter / facebook / youtube
AIRED
February 13th, 2012
MIX DESCRIPTION
This mellow and groovy mix of funk, disco, house is perfect for loungin'
BIOGRAPHY
When it comes to All Good Funk Alliance, always expect the unexpected. This spring AGFA is set to drop a new album with Fort Knox Recordings—a genre-spanning release featuring go-go drums, spaced-out synths and funky bass-lines. It marks a new direction for All Good Funk Alliance, and is somewhat of a departure from their signature sound, but fans needn't stress—this is one duo that never leaves the funk behind.

Made up of Frank Cueto and Rusty Belicek, All Good Funk Alliance has opened up for the legendary James Brown, written songs for Coca-Cola and appeared on the Breakspoll Top 50 list. In other words, these guys are no strangers to the funk. And while their musical tastes range the gamut, when Frank and Rusty join forces the end result is always the same: they deliver a sound that is funky, fun and fresh.
All Good Funk Alliance has long been lauded by critics and fans alike, and DJs looking to inject flavor into their sets invariably seek out that unmistakable AGFA sound. Their remix of big band legend Woody Herman's track, "Mambo Herd," was met with critical acclaim, and the boys recently signed a major remix deal to put their indelible, funk-infused spin on Kraak and Smaak's hit album "Plastic People." When AGFA's release, "REC," dropped in 2007, Properly Chilled described it as "modern funk mixing the best of hip hop and funk [with] lots of percussion breakdowns." Turntable Lab has also raved about the duo's sound, summing it up as: "continually hitting the head-nodding nape."
Since 1999, All Good Funk Alliance has released music on a host of labels, including its own heavyweights: Funk Weapons, Super Hi-Fi Recordings and Baffin Island Beat Brigade. Frank and Rusty have played at clubs and festivals around the globe—from Canada to Australia—and the pair has even opened up for the iconic godfather of soul himself, James Brown.
Recognized as influential pioneers of the Nu-Funk and mid-tempo breaks sounds, AGFA's innovation and originality has earned them universal respect across the breaks industry. Now, poised to unleash a fresh new album brimming with unreleased music that encompasses multiple genres, All Good Funk Alliance is ready to kick off the latest chapter in their book of funk.
TRACKLISTING
Delegation - It's Your Turn - Cuetec Edit
Micheal McDonald - Not in Love Anymore - LNTG Rework
Aeroplane - We Can't Fly
6th Borough Project - Just a Memory
Negghead - Build it Up - Break It Down Remix
Clause Four - Quiet Dawn
Cuetec - Quiet Dawn
Good Parts - Turn me Away - Good Parts Edit
The Legendary 1979 Orchestra - Put it In"