INFO STUFFS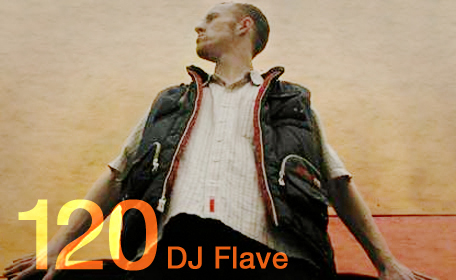 NAME
DJ Flave
CITY
Seattle
AFFILIATIONS
GENRES
Breakbeat / Dubstep / Electro House
LINKS
AIRED
April 11th, 2012
MIX DESCRIPTION
This ripping mix of dubstep, techno, electro house and breaks starts off a sleeper. No napping allowed.
BIOGRAPHY
Flave (AKA The Funkist) is a well-rounded and incredibly talented DJ. If you think this is a bold statement, you've probably never seen him play. Whether it's playing saxiphone over his DJ sets, scratching with his feet, mixing in reverse, dual needle droping sections of different tunes, MCing his own set, playing without headphones or simply hyping the crowd he is a true performer — something found in very few DJs these days.
These skills have allowed him to share the stage with a wide variety of industry heavyweights such as The Crystal Method, Rabbit In The Moon, Carl Cox, Paul Van Dyk, Donald Glaude, Armin Van Burren, Christopher Lawrence, DJ Dan, Sandra Collins, Miss Lisa, Charles Feelgood, Frankie Bones, Roger Sanchez, Bad Boy Bill, and more and more.
Flave's productions can be found on Simplify Recordings.
TRACKLISTING
Dead or Alive - DJ Wheels
Pony - Boson Dubstep
Lil Freak - Stratus rmx
Miami - TC
Get Money - Triage & The Bassist
Deathray - Eptic
Antidote - Stratus rmx
Breakn a Sweat - Skrillex
Breakn a Sweat - Zedd rmx
Get Fat - Tony Romera
2faced - Dirtcaps & Guerilla Speakerz
Shotgun - Zedd
Sho is Ready to Jump - Revolvr Bootleg
Jump - TBMA rmx
Fresh Prince rmx - J.Rabbit
Must B The Feeling - Delta Heavy rmx
Earthquakey People - Dillon Francis
IDGAFOS
Stars Come Out - Dillon Francis
Stars Come Out - Lazy Rich rmx
Eyes - Kaskade feat. Mindy Gledhill R3HAB RMX
iTune - Breakfast
Work - DJ Dan & Mike Balance & Dom G
Clubbing - Colombo
Play - Jin Sonic & Dive