INFO STUFFS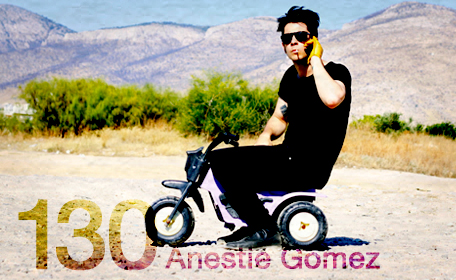 NAME
Anestie Gomez
CITY
San Francisco
AFFILIATIONS
GENRES
Deep House / House / Tech-house
LINKS
soundcloud / facebook / ra
AIRED
September 3rd, 2012
MIX DESCRIPTION
This house ad tech-house mix is deep, soothing and light.
BIOGRAPHY
Born on a rainy day in Athens, Greece, Anestie Gomez always had an innate and almost unbearable itch for music. At the age of nine, his dad sponsored the purchase of his first vinyl record, Deep Purple's Made in Japan. "Growing up with 70's and 80's rock sparked a lifestyle of not caring much," he admits, but it also made him quickly realize his love for music. Unable to play any instruments, DJing became the quick remedy he was searching for.
Gomez's solid mixing skill complements his energy behind the decks, solidifying gigs with top-notch talent such as  dOP, Lee Curtiss, Kassem Mosse, Mikael Stavostrand, Audiojack, Lee Burridge, James Zabiela and more, appearing in Tokyo, Mexico, USA and London as well as a guest mix for Nic Fanciulli's prestigious Worlwide Sounds radio show.
Following another childhood dream, Anestie moved to San Francisco in 2007. Enthralled with the surreal reality of the city, Anestie blended in with the bohemian ambiance of San Francisco as if the city was built for him. It was this laid-back vibe that sparked an instant connection with the fellow DJs of the Werd. crew; an accidental meeting in a San Francisco nightclub brought the gang together, driven by a collective passion for deep minimal tech house.
He also makes records.
TRACKLISTING
Public Lover - Un Ciel Rouge / Edit - The Song Says
Marc Neyen - Chat Noir - Archipel
Szare - Action Five - Idle Hands
Pi Ensemble - Mirror Light (Archie Hamilton Edit) - Yojik Concon
Rico Puestel - I Only Wear This Bonnet Here - Progcity
Priku - La Patinoteca - A:rpia:r
Ittetsu - 1019 - Fuse London
Cabanne - Hache De Zoo - Minibar
Stefan Gubatz - Transistor - Telrae
Jules De Pearl - Under A Spell - MBF
Smak - Fifth Limb (Safeword Mix) - Riff Raff
Mr. Statik - Nostalgia - CD-r
Pantha Du Prince - Stick To My Side (Efdemin Mix) - Rough Trade
Standard Fair - In Front Wall - Recycle
Andras Toth - Would U - Alphahouse