INFO STUFFS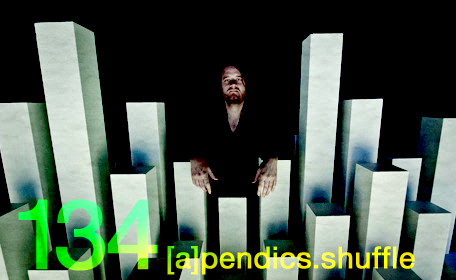 NAME
[a]pendics.shuffle
CITY
Los Angeles
AFFILIATIONS
Adjunct / Mo's Ferry / Trapez
GENRES
LINKS
AIRED
December 25th, 2012
MIX DESCRIPTION
Bouncy, pretty, twisted, deep, stompy and trippy… just how [a]pendics.shuffle does it.
BIOGRAPHY
"He's a pilgrim and a preacher, and a problem when he's stoned, he's a walkin' contradiction, partly truth
and partly fiction, takin' every wrong direction on his lonely way back home." Yes, those are lyrics to a
song and this is a bio about the man that goes by the name of Kenneth James Gibson. He is a man of
many personae and will go from monkey to bumble bee right before your eyes. Keeping up with him can
be a time consuming, yet rewarding venture into sound. As soon as you think you know him and can
grasp whats going on, he puts on yet another mask and becomes something else. Always a surprise and
never a let down, he gives us what we want but don't expect. A rare stone in today's musical climate, Ken
is rolling and collects no moss.
Kenneth's job is plain and simply to write, produce and play music. You wont be able to pigeon hole this
wiley lad as he has made and released every type of music from house to dub to rock and roll and
continues to do so with his catalog of over 200 releases. [a]pendics.shuffle has been his day job and
mainstay for quite sometime now but also creates and releases music as Reverse Commuter, dubLoner,
Kenneth James G., KJ Gibbs, Bal Cath, Eight Frozen Modules, and Premature Wig. He has collaborated
with many artists as well such as most recently Mr.C of The Shamen on the new single "Something
Strange", Anthony Collins, Mark Bell and Big Bully on upcoming Reverse Commuter tracks, Jack
Dangers of Meat Beat Manifesto on Hiss and Buzz, Dilo as Cascabel Gentz, Mikael Stavostrand as Men
In Slippers and Konstantin Gabbro, co-founder of legendary Seattle label Orac Records as Whoa Buck.
Kenneth also remixed Damian Lazarus's album "Smoke The monster Out" (Club Versions) as [a]
pendics.shuffle for Get Physical. Most recently, Kenneth's foray back into organic band-oriented music
has prominently taken the form of Bell Gardens, a collaboration with Brian McBride of the classical
ambient duo Stars Of The Lid. Bell Gardens just released their first LP "Full Sundown Assembly"on the
legendary UK label Southern Records.
Kenneth has also released music and remixed others on labels such as Trapez, Mo's Ferry, Culprit, Get
Physical, Resopal, Leftroom, Planet-Mu, Ware, Lick My Deck, Hallucination Ltd. and of course his own
label Adjunct, to name a few. As owner of Adjunct, Ken promotes and releases cutting edge dance music
from artists and remixers from the likes of Akiko Kiyama and Mikael Stavostrand to Mr.C and John
Tejada, as well as creates a unique visual spectacle to the music through his videos under the alias Captain
Primo.
TRACKLISTING
Binary Transitions - Engine Room - Unreleased
Kenneth James Gibson - Something In The Way Ft. Kelly Johnston (Extended Mix In 3 Passages) (Bruno Pronsato remix) - Culprit (soon)
Android Cartel - Bizzare - Adjunct
Deepchild - Riyadh - Thoughtless
Velvet Elvis - Jazz Hands (Blakkat Remix) - Adjunct
Longwalkshortdock - Keep It Round ([a]pendics.shuffle remix) - Innerflight Music
[a]pendics.shuffle & Mr.C (Something Strange (Mike Shannon Dub) - Adjunct
Minimal Man - Plastic Smile (Kotelett & Zadak Rmx) - Sender
Walker Barnard - The Long Count - Serialism
Brad Laner - Vecino (Mikael Stavostrand remix) - Adjunct
Souki - Cannot - Pro-Tez
Lucifer - Witch Trial - MCA