INFO STUFFS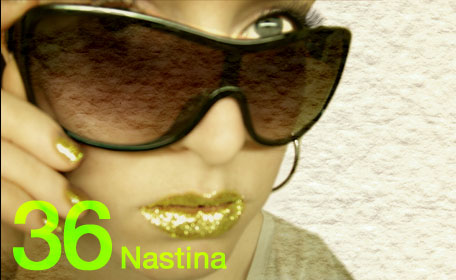 NAME
Nastina
CITY
Seattle
AFFILIATIONS
Plasmodium
GENRES
Breakbeat / Club / Hip-Hop / Mash-up
LINKS
website / soundcloud / twitter / facebook
AIRED
June 3rd, 2010
MIX DESCRIPTION
Dirty, grimy and ghetto, it meshes baltimore club with electro house, breakbeat and top 40 mash ups and remixes
BIOGRAPHY
Born into a broken family, daughter of a never-to-be-known pro basketball player conceived during a two week bender with "mom", Nastina is no stranger to adversity. Creating her empire piece by piece in the squalid projects of Beverly Hills, Nastina has made her own rules from day one. By age seven, her designer drug empire and highly-successful homeless prostitution ring had created incredible wealth. However, Nastina's love of music was her way out of the ghetto. She got decks, she got speakers…she got Nasty. After burning down her childhood home in a drug-fueled effort to erase her past, Nastina made her way to Seattle, the Emerald City.
She could be seen every night, in any seedy dive with a power outlet, spinning records with a ferocious and infectious intensity. There was no stopping Nastina. Bringing a potent combination of music, performance and audience engagement, she was a force to be reckoned with. She made old folks jump up and bust a damn hip. She made Seattle hipsters dance and sing. Her power was growing…perhaps too rapidly.
The Nastina show blew up internationally, with performances that ranged from the Budokon to the Queen Mother's dressing room, Nastina won 34 Grammys and has performed on Broadway (in her groundbreaking role in the adaptation of Alien vs. Predator). Clothing lines, shoes, jewelry, LSD…the Nastina name is everywhere.
Now, in a stunning P.R. move to re-connect with her past and to gather material for her upcoming biography, Nastina is back in Seattle and ready to bring stunning theatrics and unbridled energy back to the world of DJ performances. Hip Hop. Miami Bass. Top 40 Remixes. Dubstep. Electro-house. Bootylicious electrocrunkstep bidness all day.
TRACKLISTING
Gimme What You Got (feat. Spank Rock) - Amanda Blank
Take You (Doorly Remix) - AC Slater
XR2 Remix - M.I.A. & Diplo
Pass Out (Sbtrkt Remix) - Tinie Tempah
Low (feat. T-Pain) - Flo Rida
Calabaria Temperture - Sean Paul & Enur
AO Feat. Serocee (Zed Bias Wind Up Mix) - MJ Cole
I Took The Night (DJ Ayres Flatbeat Mix) - Chelley vs Mr Oizo
Ghost Train - Dave Spoon, DJ Zinc
She Got a Dum Donk - A-Trak
Club Action (Stanton Warriors Remix) - Yo Magesty
Whatchadoin' (ft. M.I.A., Santogold, & Spank Rock) (Villains Remix) - N.A.S.A.
Move Shake And Drop - DJ Laz, Pitbull, & Flo-Rida
House Music feat. Fast Eddie (Jordan Rivera Strip Mode Mix) - Stacy Kidd
Might Like You Better - Amanda Blank