INFO STUFFS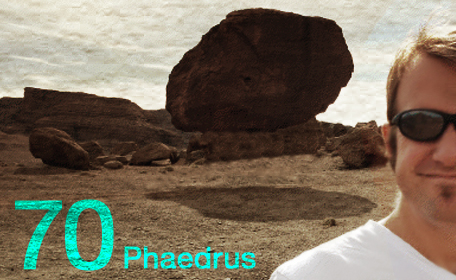 NAME
Phaedrus
CITY
Seattle
AFFILIATIONS
Peloton Musique / knight riders
GENRES
LINKS
AIRED
February 14th, 2011
MIX DESCRIPTION
Techno, electro, minimal and tech-house round out this mix with an arch
BIOGRAPHY
Phaedrus is the moniker of Dutch DJ and producer Joris Kamma. A frequent visitor to the Northwest, he held several Seattle residencies in addition to guest appearances at many clubs and parties. Decibel Festival, Oscillate and the now-defunct Groovetech Radio are among his most regular gigs. He recently relocated permanently to Seattle to join the ranks of Cascadian techno.
In the Netherlands, Kamma was a regular guest at radio Tonka and played a wide variety of live sets at various events. His sets typically consist of an interesting blend of Detroit techno, minimal, House, electro, italodisco, 2-step and even dubstep. Some would call his sound "Brighton techno," a term coined from Cristian Vogel's Brighton-based record label Mosquito.
He is a part of Peloton Musique and his first release is planned for later this year on Krecordings.
TRACKLISTING
Chariots of Vinyl - El Mejor Memento - Sleep Debt
Reinhard Voigt - Follow The DJ - Kompakt
Frankie - Divag - Frankie
### - 04 Hobo remix - Snork
Adultnapper - Compass Rose - Nummer
Roman Lindau - Combiner - Fachwerk
Carsten Fietz - Almost Random - Overdrive
Mike Dehnert - Dicco EP - Fachwerk
Roman Lindau - Can't Fix - Fachwerk
DS - One Force Jesse Rose remix - Overdrive
Tobias Schmidt & Co - Limbo Bobo - Input Output
Smith & Hack - Space Warrior - Smith & Hack
Jason Leach - A1 - Death to Vinyl
Letroset - Cube Wave - Fleeced
Gaiser - After Color - Blazaebla
Kebacid - Draculia - Blank
Sleeparchive - Hospital 02 - Sleeparchive
Danton Euprom - Confessions of an English Opium Eater - Infine
Bill Youngman - Beamer - Relax 2011
Syntax Error - Oceanic Amcom - Snork
Mark Hawkins - Hope and Dread - Pristine
S-Max - Sit Calmly, My Beautiful Friend - Semi Automatic
### - 04 Spandex remix - Snork
Sutekh - Make It With The Bow - Adjunct
Dexter - I Don't Care - Klaxon
Tim Exile - Inseminov - Mosquito
Aeox - Ever Lost A Friend To God? My My Low Carb Mix - Null
Mr. Statik - West Coast Booty - Karloff
Mark Hawkins - Spooky Truth - Mosquito