INFO STUFFS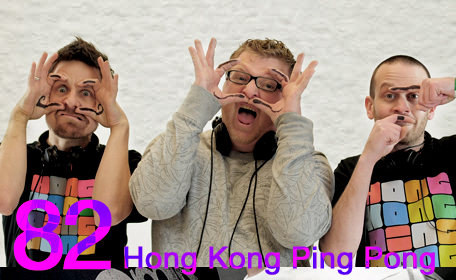 NAME
Hong Kong Ping Pong
CITY
Falmouth
AFFILIATIONS
NSB Radio / Beating the crates
GENRES
Breakbeat / Hip-Hop / Mash-up / Rock
LINKS
website / facebook / twitter / soundcloud
AIRED
May 16th, 2011
MIX DESCRIPTION
Classic rock, hip hop, electro house, breaks, movie clips, dub and dubstep mashed up in a way that's very fun… and very dancable.
BIOGRAPHY
The Hong Kong Ping Pong Club is the funky love child of DJs Morphosis and Fat Harry. They enjoy a right old weekly knees up on their award winning NSB Radio show "Beating The Crates" 1 til 3pm every Monday, and have been doing so for the past few years now. So when somebody, somewhere, suggested the show was too good to be confined to the web-waves, they decided to fully oblige, and bring it to you live! Whilst the name "Beating The Crates" works for the radio show, it didn't sound quite right for the club night, and so, after recalling certain impressive Asian skill sets witnessed on a number of occasions during Fat Harry's time in S.E. Asia, The Hong Kong Ping Pong Club was born! Along the way they've teamed up with vinyl fiend, hip-hop scratcher and rabble-rouser number one, DJ Spinforth, plus conga/percussionist Speedy Gonzalez and in doing so they have undoubtedly spawned a very special, shiny-happy, funk fueled gem of a night out.
HKPP HQ is in Falmouth, Cornwall, from where they have built up a remarkably loyal following, who no doubt had a big hand in garnering them a much coveted nomination for "Best Small Event" at "Breakspoll – International Breakbeat Awards 2011". The Hong Kong Ping Pong name continues to spread with gigs, has seen them play at Glade, Aeon and Boardmasters Festivals and support the likes of A.Skillz, Freestylers, Scratch Perverts, Krafty Kuts, Ed Solo, Drumattic Twins, Parker and many more along the way, winning them fans & friends wherever they play.
They have recently turned their hands to production under the expert tutelage of their peers and have taken to it like the proverbial ducks to water, collaborating with their good friend Pimpsoul on a number of tunes and remixes some of which have been signed by labels and are due for release early in 2011.
Their passion for good music and quality parties has seen them picked up by the scenes biggest blog, Ghettofunk.co.uk, as regular contributors. The infamous HKPP Mixtape series enjoys some serious airplay in crazy places across the globe! They love The Hong Kong Ping Pong Club and if you are inclined to dance like a drunken-hands-in-the-air Viking to bootie shakingly good music you'll like it too!
TRACKLISTING
Harry J Allstars - Liquidator (Hansi Edit) - CDR
Dj Trax & Assorted Anonymous - Pub Crawl - CDR
Bangers Are Mashed - Feel Alright - Bangers
Blend Mishkin - Barrington Glock - Riddim Fruits
Cutloose - Stop Pop And Bounce - CDR
Carpetface & Audible - Down To The Sound - Newbias
The Beatmokeys - Old Dirty Shaft - CDR
K Lab ft Mc Analogue - Wrecked (Opiuo Remix) - Empathy Digital
Shy FX ft Donae'o - Raver (Dj Wood Reboot) - CDR
Black Eyed Peas - Weekends (Nick Thayer Bootleg) - CDR
NIles Philips - 04 Easy Down Home Cooking (original mix) - Timewarp Music
Jpod - Particle Path - Swing Set Sounds
A.Skillz vs Beatvandals - Monaey Banger - Insane Bangers
Neon Steve - I Got Tha - Bombstrikes
One Funky Soul - Funky Kiingsland - Funkin Donuts
Santero - Drop The Bomb (Stickybuds Vocal Mix) - Sugarbeat
Krafty Kuts & Featurecast - We Blow Up The Spot - Insane Bangers
Dj Yoda & Nick Thayer ft Gotti Boi Chris - Toot It Up (Nick Thayer Moonbahton Remix) - Jam City
Dj Love ft Geechi Suade - Zigga Zigga (Nick Thayer Remix) - Air Recordings
Pimpsoul ft HongKongPingPong - Get Original - Bombstrikes
Funkanomics - Jucachavezxx - CDR
Basement Freaks - Get Down Boogie (Fab Samperi Remix) - Jalapeno Records
Whistle - Just Buggin' (A Skillz Remix) - Champion Records
Philly Blunt - The Jam - Grits N Gravy
Busta - Pump Up The Volume - CDR
The Beatmonkeys - Party - CDR
Super Deejay Bobzilla - Ah Shit! (D-Funk's Swearbox Overload Mix) - Mutate Records)
Enzo Siffredi – G Swing (Basement Freaks Remix) - Erase
Manjane - Words - Guesthouse US
The Breakbeat Junkie & Dj P - Drop Down - Big M Bootie
Deekline & Dustin Hulton - Whip It (Neighbour Mix) - Rat Records
Slamboree - Balk To The Future - CDR
Soul Of Man - Killafly - CDR
The Freestylers - Ruffneck '09 ft Navigator (Pirate Soundsystem Remix) - Never Say Die