INFO STUFFS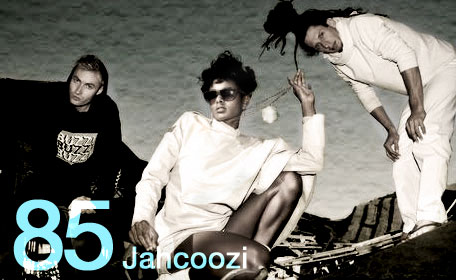 NAME
Jahcoozi
CITY
Berlin
AFFILIATIONS
GENRES
LINKS
website / myspace / twitter / soundcloud
AIRED
June 6th, 2011
MIX DESCRIPTION
Dub and bass-heavy genre-straddling tunes mixed by Jahcoozi's Sasha Perera
BIOGRAPHY
Jahcoozi's music is as original and varied as the trio themselves: song writer/mc/singer Sasha Perera (London/Sri Lanka), producer Robot Koch (Germany) and bass-embodying sound-tech Oren Gerlitz (Tel Aviv). Musically and culturally speaking, Jahcoozi is a mash-up operation that consistently manages to deliver a unique mongrel style of electronic pop.
Formed during a long, coal-fuelled Berlin winter in 2002, songs such as Black Barbie, BLN and Fish gained them early recognition. In 2003 a CD-R of Fish was played by the legendary John Peel, calling it "beautiful pop music from the future." Indeed, it's this very pop sensibility keeping the trio so solid. Jahcoozi's unique and ever-changing blend of dub, glitch and step-based sound result in honest and communicative pop appeal; warm sub basses, crunchy drums and precise-yet-organic sound textures create a juxtaposition few other acts can emulate.
With two full-length albums, numerous eps, picture discs, remixes and features to their name, Jahcoozi have released music on various international labels such as Kitty-Yo, Asound, Playhouse, Ninja Tune, BPitch, Citizen Records, Crosstown Rebels, 1965 and WMF Records. They have collaborated with and been remixed by a refreshingly wide range of artists including Asian Dub Foundation, Stereotyp, Modeselektor, Siriusmo, Oliver $, RQM, King Cannibal, Mochipet, Rustie, Buraka Sound Sistema, Missill, M Sayiid , Lexie Lee, D-Double, Tinchy Stryder, Lethal B, Dano, JME, Skepta, Ata + Sasse, Cassy, Luomo, New Flesh, Infinite Livez, Alhaca Soundsystem, Hannah Holland and Chris De luca vs. Phon.o (aka CLP).
Their most recent full length was released in April of 2010 on Ellen Alien's Berlin-basled imprint BPitch Control.
TRACKLISTING
Jahcoozi - Day In Day Out
Gonja Sufi - Ageing (Dam Mantle Remx)
James Blake - Klavierwerke
Rhythm & Sound feat. Cornell Campbell - King of My Empire
Jahcoozi - Read The Books (Tayo Remx)
Gil Scott Heron & Jamie XX - Ur Soul & Mine
Girl Unit - IRL
Ramadanman - Glut
Jahcoozi - Speckles Shine (LV Remx)
Blawan - Iddy
Mark Pritchard - Heavy As Stone
Robot Koch - Lights
Martyn feat. Space Ape - Is This Insanity
Gil Scott Heron & Jamie XX - NY Is Killing Me
Appleblim + Peverelist - Over Here
Bidjoi Sisters - Chantal