INFO STUFFS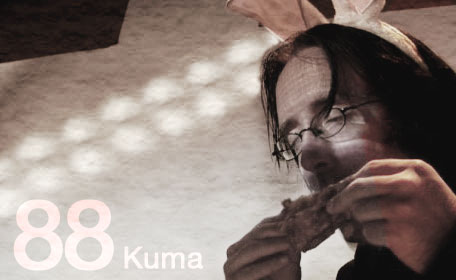 NAME
Kuma
CITY
Vancouver
AFFILIATIONS
TKG / Immerse / Art Of Beatz Radio
GENRES
Dubstep / Garage / House / Techno
LINKS
twitter / soundcloud / facebook
AIRED
July 5th, 2011
MIX DESCRIPTION
Celebrating ten years of the Konspiracy Group, this mix does some serious genre hopping and time-warping.
BIOGRAPHY
Now counting 15 years of fighting conservative thinking within electronic music, Vancouver producer/DJ/sake drinker Kuma perseveres the quest of "saving ears and shaking booty."
As the founder of the internationally renown organization, Konspiracy Group, Kuma spent the last decade championing bass music and ambient in equal measure. His music spans the entire dub-based spectrum and reaches people from Sapporo to San Francisco. For his excursions in dubstep as both producer and promoter, he was recognized by BBC Radio 1's The Breezeblock and their infamous "Dubstep Warz" program.
A former host and producer with Canada's national broadcaster, CBC Radio, Kuma currently hosts Art Of Beatz, Vancouver's longest running electronic music radio show, and as one half of Gunshae, he makes discrete classical-pop-ambient music for the wi-fi generation. Gunshae's second album is scheduled for a 2012 release on Ohm Resistance.
TRACKLISTING
Gunshae - Madroning - Ohm Resistance
ASC - Symbol #2.2 - Auxilary
LV, Message To Bears and Zaki Ibraheim - Explode (Mothy Dub) - 2nd Drop
Deepchord - Amsterdam Remenant Pt 1 - Soma
Jon Convex - Convexations - 3024
Round One - I'm Your Brother - Main Street
Joy Orbison - Hyph Mngp (Andreas Saag Remix
SBTRKT ft Sampha - Look At Stars - Young Turks
Ken Ishii - Extra - R&S
Julainna Barwick - Sunlight, heaven - Florid
Lamin Fontana - Dance In Yr Blood - Dutty Artz
Ossie - The Power Of Love - Hyperdub
Breach - Fatherless - PTN
Cooly G - Dis Tribal Boy - Dub Organizer
Girl Unit - Wut (Claude Von Stroke's Undressed Mix) - Night Slugs
The Sight Below - Splenetique - Ghostly
Kuma ft Juakali - What It's Not - TKG Music
Daega Sound - The Way - Dub
Kryptic Minds ft Alys Be - Can't Sleep - Black Box
Vibezin - Vicious - Keysound
Addison Groove - Fuk Tha 101 - Hessle Audio
Swarms - T-1000 (LoDubs
TRC - Oa Aa Ee (Royal-T Remix) - Butterz
Gurley and Bias - Roll - Keysound)
Kode 9 - Time Patrol Dub - Hyperdub
Kuma ft Juakali - What It's Not (Grievous Angel remix) - TKG Music
Old Apparatus - Side A - Deep Medi
Floating Points - Sais - Eglo
Ben Frost - Theory Of Machines - Bedroom Community
William Basinski - Vivian and Ondine - 2062
Set Fire To Flames - When I First Get To Phoenix - Fat Cat