INFO STUFFS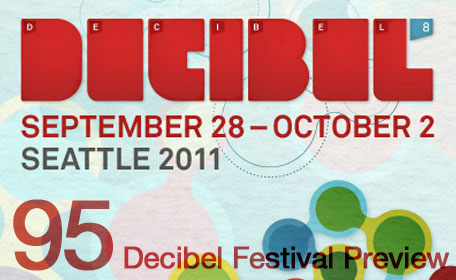 NAME
Decibel Festival
CITY
Seattle
AFFILIATIONS
Decibel Festival
GENRES
Dubstep / House / Tech-house / Techno
LINKS
AIRED
August 22nd, 2011
MIX DESCRIPTION
A sampling of artists performing at this year's Decibel Festival (Mixed by festival director/curator Nordic Soul)
BIOGRAPHY
Over the past nine years, Decibel has booked over 700 artists ranging from experimental, to leading-edge electronic dance music and visual art. With a focus on live performance, interactive multimedia art, state-of-the-art sound and technology-based education, Decibel has solidified itself as one of the premier electronic music festivals and promotional organizations in the world.
In 2010 the Decibel Festival celebrated it's 7th anniversary, pulling in over 18,000 people to Seattle. The 2010 edition featured over 150 artists and educators performing at over a dozen venues over the four-day festival.
The 8th edition of the Decibel International Festival of Electronic Music Performance, Visual Art and New Media will be taking place September 28th through October 2nd. This year we're pleased to announce several new venue partners, including The Paramount Theater, The Showbox Market, The Crocodile and Fred Wildlife Refuge. Additional venues for the 2011 program include Neumos, The Triple Door, The Baltic Room, Sole Repair and The Illsley Ball Nordstrom Recital Hall at Benaroya (more venues TBA). With increased venue capacities and new downtown locations, we anticipate the 2011 to be our most exciting and well attended program to date.
TRACKLISTING
Mountains - Melodica
Extrawelt - Mit Liese Auf Der Wiese (Max Cooper remix)
Davide Squillace & Luca Bacchetti - Around The Bay (Martin Buttrich remix)
Deniz Kurtel - The L Word feat. Jada
dOP - Lighthouse
Vladislav Delay & Sistol - Keno (Mike Huckaby remix)
Moby - Go (Woodtick mix)
Martyn - Masks
Motor City Drum Ensemble - L.O.V.E.
Bonobo feat. Andreye Trina - Eyesdown (Floating Points remix)
Girl Unit - Wut
The XX - Islands (CHLLNGR remix)
Zomby - Tarantula
Julio Bashmore - Ask Yourself
Green Velvet feat. Russoul - Millie Vanillie
Egyptrixx - Recital
Mark Henning - Cupcakes (Tim Xavier and Camea remix)
Nordic Soul - Changing Gears
Paco Osuna and Alexi Delano - Waxfix
Ulrich Schnauss - In All The Wrong Place