INFO STUFFS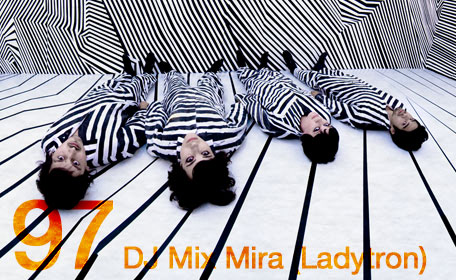 NAME
DJ Mix Mira
CITY
London
AFFILIATIONS
Ladytron
GENRES
Electro / Electronica / Rock
LINKS
AIRED
August 29th, 2011
MIX DESCRIPTION
Dark and motorik, this mix of analogue electronic, krautrock and dysfunctional disco is an imperfect soundtrack for dancing at 4am in the desert. The second of a special double feature Ladytron session.
BIOGRAPHY
The narrative of the past decade of electronic music would not be complete without a chapter on Ladytron – although the Liverpool-born quartet's global fan base would argue that the band wrote the book on it. Consistently placing song craft and innovation over any confining aesthetic, the foursome of Daniel Hunt, Reuben Wu, Helen Marnie and Mira Aroyo fashioned four albums of deliriously buzzing, whip-smart electro-pop that have kept them ahead of the curve, apart from the fads and in a league of their own.
"We've never fit into one scene, never adhered to one set of rules and never wanted to create anything that was already accepted or in the mainstream," says Wu now, reflecting on a decade highlighted by principal releases "604″ (2001), "Light & Magic" (2002), "Witching Hour" (2005) and "Velocifero" (2008).
Those albums, surveyed on the career-spanning "Best of Ladytron: 2000-2010," reflect the quartet's deftly executed (and delightfully subversive) dualities: primordial grooves vs. lushly layered synths; sanguine melodies vs. shimmering atmospherics; and art-house detachment vs. the poignant narratives delivered by dueling sirens Marnie and Aroyo. Ladytron has created a body of work that reveals a fresh creative arc – and, as time has told, served as a reference point for a current crop of artists such as Lady Gaga, Goldfrapp, La Roux and Crystal Castles.
It started with a batch of Daniel's songs and a collection of vintage synths. Hunt and Wu met in the late 1990s, and through various DJ gigs met Glasgow-born Marnie and Aroyo, a native of Sofia, Bulgaria, in the summer of 1999. Hunt found he shared myriad interests with his new collaborators – French electronica, Krautrock, and various evolutionary dead ends of pop history. It was a strange brew because the landscape at the time was populated by guitar-based alternative rock bands and house music, with little crossover.
Ladytron performs at Decibel Festival on Thursday September 29th alongside Depressed Buttons and SONOIO at Showbox Market.
about the festival
Over the past nine years, Decibel has booked over 700 artists ranging from experimental, to leading-edge electronic dance music and visual art. With a focus on live performance, interactive multimedia art, state-of-the-art sound and technology-based education, Decibel has solidified itself as one of the premier electronic music festivals and promotional organizations in the world.
In 2010 the Decibel Festival celebrated it's 7th anniversary, pulling in over 18,000 people to Seattle. The 2010 edition featured over 150 artists and educators performing at over a dozen venues over the four-day festival.
The 8th edition of the Decibel International Festival of Electronic Music Performance, Visual Art and New Media will be taking place September 28th through October 2nd. This year we're pleased to announce several new venue partners, including The Paramount Theater, The Showbox Market, The Crocodile and Fred Wildlife Refuge. Additional venues for the 2011 program include Neumos, The Triple Door, The Baltic Room, Sole Repair and The Illsley Ball Nordstrom Recital Hall at Benaroya (more venues TBA). With increased venue capacities and new downtown locations, we anticipate the 2011 to be our most exciting and well attended program to date.
TRACKLISTING
no track list