INFO STUFFS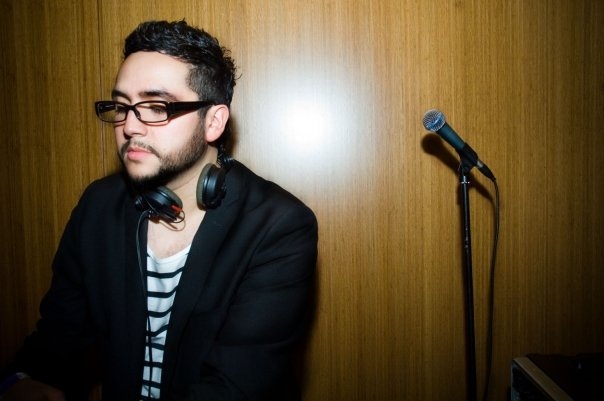 Jonny Romero (Brooklyn, NY)
Sweatbox, The Cut
When I was asked to submit a top 10 chart for Plasmodium, a photo and my personal bio were requested as well. Currently I am without a bio and I cannot be bothered to write one for myself. Likewise, I often find that when a bio is written in the third person, it is predominantly transparent and vexing. And rather than bore you with my past accomplishments as a deejay, or rhetoric concerning my psudeo male-driven dominance in some equivocal future, I will do something far more self-righteous; write about my own chart.
There are several factors, regarding the chart, one should know prior to reading further: all selections are on vinyl, many of them exclusively; all selections are new releases and are available on walls of fine music purveyors worldwide; all selections are in a particular vein, techno perhaps, but I'll leave that to your own discretion; all selections do not reflect my own overall scope as a deejay but they have been thoughtfully chosen for this particular website and its potential interests; and finally, this chart shall not follow typical protocol or be confined by the number "10".
Chasing Voices – Valley Of The Dry Bones [Preserved Instincts]
I look forward to a Chasing Voices release more than any other. In a time when most opinions on techno are based on the sound design of a track and not particularly on the music itself, it is refreshing to hear something so alien yet familiar that it will have you brood over the current welfare of techno. Suppose for a moment that techno could be converted into a painting. Now most paintings would look similar or have a subject, say a bowl of fruit, akin to one another. Each one lauded for looking more like that still-life than the next. Now imagine a painting that reminds you of an actual bowl of fruit but appears nothing like one. That is what Chasing Voices are capable of achieving with each individual release. You know how you feel when you see that painting and what it may evoke, but it does not resemble the other artwork, or even a hypothetical bowl of fruit. I am reminded of what techno can be.
Chasing Voices – Another Walk [Preserved Instincts]
Chasing Voices is not an artist, it is probably best described as a project. Each release is helmed by a different producer, save two, so far. I believe only a few people know who the artists are, or perhaps no one is talking about it. Fine. The music is what matters here, not some shadowy figure(s) shrouded in mystery anyway. Up to this point, each release is single sided and reinforces the fact that great music need not be packaged for value. Another Walk was released late last year and has my vote for best techno record of 2011. I am aware that it was recorded in one take, live. Which proves, to me at least, that techno is best when it is haphazard, not only in execution but in spirit as well. These records are truly buy-on-sight.
The Poetic Painter M – Marie's Transcendance [M>O>S Recordings]
T.P.P.M., yet another alias by Melvin Oliphant III. Melvin, better known as Traxx, runs Nation Records which champions the newer Jakbeat sound. Jakbeat, while reminiscent of old Chicago jack tracks should not be mistaken as a throw back or rehash genre. The movement, as a whole, certainly looks to the future, albeit a different version of the future. M>O>S Deep records are fast becoming the go-to releases from parent label, M>O>S Recordings. Very recognizable and often extremely dark, although their records are certainly not bleak. Cheifly, they are funky as they are strange. Marie's Transcendance is no exception.
D'Marc Cantu – How Are we Doing? / A Second Earth [M>O>S Recordings]
D'Marc Cantu, or DMC as he is also known, is a resident of Ann Arbor, Michigan but is oft thought to be a child of Chicago. And for good reason. His music, in the past, was synonymous with Jakbeat as he is a close friend of Melvin Oliphant III and they have several projects together as well. More recently DMC's music has taken a shift in tone. Despite his trademark sound, Resident Advisor referred to it as "fudge-dense", his music has developed in a different direction. That direction is a bit theoretic, being that it is derived in fiction, science fiction a la outer space. If he stays on the trajectory exemplified by A Second Earth, eventually one will require a zero-g suit just to hear his music. Let us hope that day comes.
Neotnas feat. Four By Fog – That Day [Dope Jams]
I do not know much about Neotnas other than: he is Russian; he has a Myspace page; this is his first vinyl release; and I do not enjoy anything else he has put out. Perhaps this record is a sign of things to come. If not, he should cease production here. This record is about as dejected as it is danceable, a rare feat indeed, think Villalobos' "Dexter" but with a more timeless air about it. The male vocal styling, provided by Four By Fog, is mysterious and out-of-place in the best way possible, reminding us of how formulaic house and techno have become.
Theo Parrish – S.T.F.U. [Sound Signature]
I am by no means a Theo Parrish fan. Blasphemy to many, I am sure. Regardless of his long and illustrious career filled with many highs, I only care for a handful of Theo's cuts at best. Suffice to say, it is most likely because I only enjoy his music when it rugged and falling apart at the seams, certainly exemplified here. The A and B sides are very similar, with the former being an additional four minutes longer, driving the passenger deeper into the dark and funky terrain crafted by Mr. Parrish. The BPM ranges from 107 to 115 to 119, challenging deejays to mix ahead of the curve, a bumpy curve at that. Sound Signature, Theo's label, also released Spectre's "Pipe Bomb" last year. "Pipe Bomb" had a very similar feel to it and I hope that "S.T.F.U." heralds future switchbacks on Sound Signature's L'Alpe d'Huez. Hang tight.
DJ Sotofett – DJ Sotofett Presenterer Dritfett [Wania]
If DJ Sotofett is anything, it is hard-to-pin-down. He is part of the Norwegian Sex Tags crew and their family of labels. His prior productions are all over the board and it is difficult to know what he will come up with next. It could be house, techno, hip-hop, or something altogether different. Rest assured, it will be on vinyl, exclusively, and it will bang. I have had the opportunity to hear him deejay twice and he recorded one of my favorite mixes of 2010/2011. At only 13 minutes long, Sotofett was able to say more in that mix than most do in 60 minutes. Meanwhile on Dritfett's five tracks, Sotofett unabashedly focuses on techno via the TR-909 at 130 BPM. One may pitch them down but he always seems to get his point across. Therein lies his trademark; simple, yet unmistakable fun.