INFO STUFFS
99 Designs brings Fat Cat flexibility to the little guy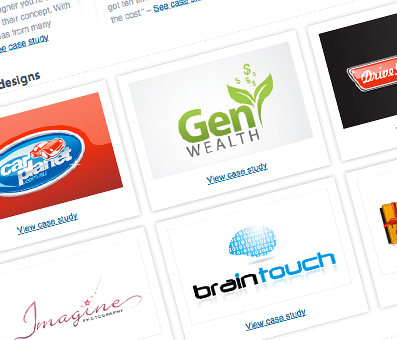 Remember Blow Out? Bravo's reality TV show starring celebrity stylist Jonathan Antin and his Beverly Hills salon? I vividly remember cringing and shifting uncomfortably in my seat during his meetings with Zorbit Resources, a Los Angeles-based creative agency. They were hired to develop the identity and packaging for Antin's line of hair care products and it was… painful. A designers worst nightmare in a way only reality television can manifest.
Melodrama aside, Zorbit's experience underscores one of the many reasons why I'm reluctant to take on new identity projects. Sure, they can be fun, and a lot of them are. They can also result in… well… reality television melodrama. Building a solid brand identity is one of the most crucial parts of any business and stakes are high.
From the client's perspective it can be agonizing. Find a designer (or designers). Hold design meetings. Look at initial designs. Make changes. More iterations, more changes. You tell the designer what you want, but for some reason they are unwilling or unable to listen and it makes you want to scream. Now you're stuck with an expensive logo you probably won't use and need to hire a new designer to start the process all over again.
From the designers perspective it can be just as frustrating. Find the client. Pray the client can clearly communicate what they want – or even know at all. You give the client exactly what they asked for but come to find out they really don't know what they want, hate all your ideas and blame you. More problem solving, more changes, more of your time, and at the end of the project there's no guarantee your client will be happy. Now you're stuck convincing them to pay your invoice even though they feel you didn't deliver. They think you're a bad designer, you want to punch a hole in something and you both develop an addiction to Xanax.
Of course the inverse is just as likely. Client hires designer. Client and designer create a solid creative brief, communicate clearly, complete a round of small revisions and land a headache-free million-dollar logo. Easy cheesy.
These are best and worst case scenarios, of course, but every professional designer has at least one nightmare… shall we say… "learning experience?" You can't win 'em all and not every design will be portfolio worthy. On the other hand, you get what you pay for and not all business owners have a clear understanding of what design time actually costs. Hire a dime store designer and you'll likely end up with a dime store experience.
Now most small business and start-ups can't (or won't) pay the thousands needed for a proper, honest-to-goodness brand identity development. There's nothing wrong with that per se, but it often leaves these folk with little options: take your chances with a cheaper, less experienced freelance designer or buy one of the countless cookie-cutter logos online and let your business fall into the fray. If Mom & Pop's Yoga Shop had the clout of CitiBank or BMW, multi-milion dollar ad agencies would compete for their business without having to pay for unused ideas. Wouldn't that be nice? Well, Mom & Pop are in luck.
Using a very similar model, 99 Designs have streamlined and simplified the brand identity process. Clients name their price, the online form walks them through the creative brief process and sends the request out to a handful of designers (or bucketful, depending on purchase price) and returns dozens or even hundreds of logo ideas pitched from a variety of freelance designers.
The concept is rather interesting; Fortune 500 companies have done it this way for ages, why can't the start-ups? As a designer, though, I'm not sure how I feel about it. Agencies have the manpower and client base to pitch business (aka work for free) consistently but freelance designers likely don't have time to waste on non-income generating work. There's also no opportunity to interact with the client, meaning no feedback or revisions. If you don't deliver a perfect design on the first try you're out. Furthermore, once an agency lands the Citi or BMW account there's guaranteed work beyond the initial project. With a smaller model such as 99 Designs this isn't the case, making payout much lower and work load potentially much, much higher.
On the other hand this gives designers an opportunity to cherry-pick projects, only spending time on a pitch if they have a solid idea for find themselves inspired. It could also be a fantastic way for WordPress template designers to pitch existing ideas at a higher value, or re-pitch designs passed over by a previous client.
I'm still on the fence about the whole model, but kudos to 99 for putting this idea in action. I've enjoyed sifting through existing case studies and might actually sign up myself. I only hope this model doesn't set precedence for the industry as a whole. I suppose only time will tell.
So fellow designers, what do you think?