INFO STUFFS
Need a printer? Go Zooom!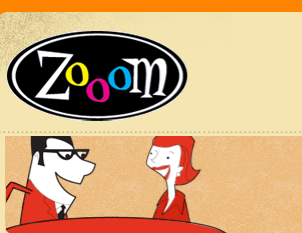 I got my brother's wedding invitations in the mail today from Zooom, and as usual they are perfect. Color perfect, stock perfect, cut perfect and shipped in such a way that it gets to me without being destroyed. As usual. I've been using these guys for over 5 years now and can safely say they're my favorite print vendor. Hands down. http://www.plasmodium.net/wp-admin/post-new.php
Somehow they manage to be more affordable than local vendors after shipping costs even though I'm in Seattle, WA and they're in Richmond, VA. And for smaller jobs, it's almost always cheaper to run offset with them than go digital locally. Crazy, right?
Well, they've been so good to me over the years I decided to be good to them with this shout-out: USE ZOOOM! At the very least let them bid. Ask 'em questions. Let them help you find solutions to your production challenges. They are quick, professional, knowledgeable, helpful, obscenely affordable and adhere to strict quality control standards. Even at high volumes I have never needed to return or reprint a job which is more than I can say for other print houses, high-end or not.
I love Zooom! …and no, they didn't pay me to say this. They just rule that much.