INFO STUFFS
DIY Multi-touch Live PA rig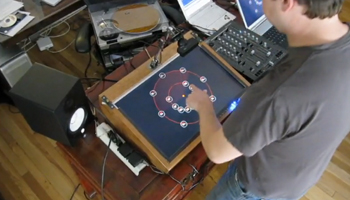 My name is Stephen Schieberl and I make electronic dance music as "Let's Go Outside". I also work at Fashionbuddha, developing everything from Flash sites to public installation pieces. Earlier this year, I decided to combine my passions for music and interactive into a live set up suited specifically to my production and performance style. Awaiting the advent of affordable, desktop-power multi-touch computers, I had to put hardware together to go with it.
The result may be seen in this video:
For the full write up with all the geeky details and more video (displaying a more responsive configuration), check out the TechSparked article:
http://techsparked.com/project/live-pa-rig
I attempted a debut at Denver's "Make Mistakes" party this past weekend, but as the event name foretold, it wasn't to be. A last-minute a hardware issue rendered the screen useless. However, the software, which is tentatively titled "Radial" and can be operated with a mouse, allowed me to carpal-tunnel my way through the set without a hitch. I've gone back to the drawing board and aim to have a successful re-debut at Fubar (@ Branx) in Portland, Oregon on Friday May 21.
I'll also be presenting this set up in a less-party/more-educational fashion at EMP in Seattle, Saturday, May 29 as part of the 2010 Northwest Folklife Festival. My twenty minute session begins at 3:40pm. It will be a good chance for the curious nerd to get a closer look.