INFO STUFFS
Helping Someone Who Helps Others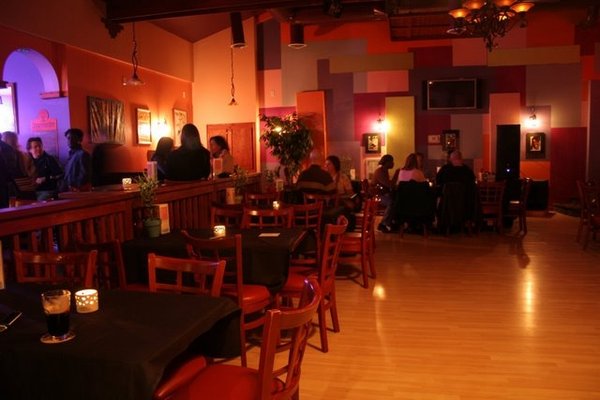 The humanist in me wants to believe this isn't an issue of pay-offs or racial profiling but the cynic in me feels otherwise. I almost didn't post this here, thinking it might be an inappropriate use of the blog, however I came to the conclusion that not helping a valuable member of the community due to something so trivial would be much worse. So here it is: something I view as an injustice, collated with evidence that's flimsy at best. A link to the petition will be provided at the bottom of this post.
For those of you living outside Seattle know this: Waid's House of Love is a Haitian restaurant and nightclub located in the Central District of Seattle – by far the seediest neighborhood in Seattle with a history of gang and drug activity. Some people call it Seattle's ghetto, but no one who's actually been to a ghetto would ever call it one. But to be fair, the area sees it's share of fraudulent behavior, mostly from people with a skin shade much darker than my own. And there's the crux. Nevermind the fact that the corner-slangers who used to stand around there have dwindled near nonexistence, or that the neighboring bar is the one with thugs rolling in and out. But is their license in question? Hmm…
Waid's hosts a number of electronic music events, dancehall, reggae, etc. They throw benefits and give both money and time back to the community. They go out of their way to make the block safer. On more than one occasion security has offered to walk me to my car when there were illicit-looking characters hanging out on the corner. They've never served liquor after 2am (though sometimes I wish they would!) and I've always been asked for my ID. Waid (The owner and namesake) has personally helped put area violent offenders behind bars, supplied video tapes and testified for the City of Seattle, yet for some strange reason SPD claims Waid's is a danger to the community and needs to be shut down. I call shenanigans, as does the rest of the club-goers, promoters, restaurant patrons and neighbors. Waid's only mistake was hiring a security guard with poor judgment (who has since been terminated) but even then, this underage incident is not the reason for the denial of his license. Here is the well-written rebuttal from Waid to the Washington State Liquor Control Board after receiving their letter of denial:
Dear Mr.Kevin McCarroll,

The city of Seattle is opposing the renewal of my liquor license asserting that we ignore liquor laws and constitute "a significant danger to public safety". I, as the owner of Waids, can say that we do not ignore liquor laws but have made mistakes mainly by hiring a security crew with some bad apples in it. And for that I'm taking full responsibility. Even before I opened Waids the Seattle Police Department objected to giving me a liquor license. They cited sound issues with the neighbors saying that a restaurant or club was bad for their health. After months of reviewing my application and waiting anxiously to see my longtime dream materialized, the Liquor Control Board sided with me and I was given the opportunity to open the one and only Haitian restaurant in the N.W. And for that I shall remain always grateful. It was a very long process and the board is in the possession of all the documents. I'm mentioning this because I do not understand why the Seattle Police Department brought this up in their new objection for the renewal of my liquor license.

As I mentioned before I opened Waids, there was a noise issue between Mundos, the previous club, and the neighbors. A lawsuit was filed by these neighbors against the old owner Mr. Nagi. There's mention here of neighboring residents that suffered ill health as a result of Waids. That is simply not true. My only fault was inheriting a problem that wasn't mine but one that I was confident I could fix. Since a young age, my philosophy was always the same." In life there's always problems but behind every problem exists many solutions.' And since the problem with Mundos was a noise problem, I said to myself that I will fix it. After countless hours of dealing with Seattle attorneys and after spending more than $80.000 sound proofing the whole building, the noise problem was no more. And through working with the ACU, I was approved to be not only a restaurant but also a night club. Because of my constant cooperation, the city dropped a law suit they had against me and I was finally free to run my business the way I intended to.

Waids has been open for almost 4 years with no major incidents such as underage drinking. However, within one month, two such incidents took place. This is because of the mistakes of one individual whose sole job was to check ideas and to provide wrist bands to people of age so they can have access to the restricted bar area on Wednesday nights. For this, I'm taking full responsibility because I should have known better and should have fired that person the very first time. But, believing in second chances, I gave him one. And barely a month later the very same person made the same mistake that is now causing me and my family tremendous angst.

For the first offense that happened on December 17th, I paid a $ 500.00 fine to the Liquor Board. The second offense happened on January 21st where a girl was found drinking in an alley close to Waids with a wrist band from Waids and paid a $2.500.00 fine. Even though she did not mention she had any drinks at Waids, the security person should not have provided her with a wrist band. And again, I'm taking full responsibility because it is my fault. To stop this from recurring, and with the help of Liquor Control Board, we are making some changes.

The following steps are being taken:
• We stopped the 18+ Wednesday nights
• My security staff has taken a security class with the Liq. Board.
• My regular staff is scheduled to go on liquor training.
• More signs are added throughout Waids clearly showing no minors allowed.
• More cameras will be added in the near future.
• Last but not least, that security person mentioned previously has been fired and no longer works for me.

I have noticed in the SPD reports many incidents not related to Waids but yet attributed to Waids. Then again, this is not new and I have been dealing with this problem since I opened my doors. Everything that happens on the 1200 block seems to be automatically related to Waids even though it is always proven not true. There are other bars in the same block. Right next to Waids there is a place, considered as a trouble spot by the Seattle Police Department, and frequented mainly by gangbangers and drug dealers is only mentioned once here. Almost nightly (that place has been closed for 3 months), we used to have to call 911 because of fights coming from that place. To protect my patrons and to protect human lives, I told my employees to always call 911 whenever they see a fight or any suspicious activity and they do. On July 11, 2009, a fight broke out from next door and spilled over into the streets. When I saw a guy running after another with a gun in his hand, I told Raymond an ex-employee of mine, to call 911 and he did. Thanks to our quick action, no one died that night and the suspect was apprehended. We were interviewed by some police officers and we explained to them what had happened and made sure to let them know that these people were not patrons of Waids but came from next door. Now I see this incident being used by the Seattle Police Department to strengthen their case against us and this is simply not fair.

Also, on February 24, 2009, after a CD release party for a local hip-hop artist, a fight broke out right outside the gate of Waids as people were leaving around 2am. Again, I called 911 because no matter how much I personally tried to calm one guy down he would not listen. And since then I stopped having hip-hop events at Waids. Many of the programs I used to have that contributed to fights have been stopped. We have recently made it our policy to take Polaroid pictures of anyone engaging in any physical confrontation inside or outside Waids and these people will be permanently banned from ever coming back. Now, I was told and encouraged by the Seattle Police Department to always call before things get out of hand so why am I being punished for doing just that? Because of these calls, drug dealing is no longer, people feel safer to walk at night and volatile situations are quickly put under control.

To create a safe environment, I have installed video cameras outside and inside Waids so we can record everything that happens. I have also installed bright lights outside to illuminate the sidewalk and street. Because of this bold approach, the suspicious activities have diminished greatly to the point of non-existing and fighting becomes less frequent.

I always provide video tapes to the Seattle Police Department and to the Liquor Board Officers whenever I am asked. Recently, an attempted murder case was won by the city because of the video tape I provided. I have gone to court twice as a witness for the City. In one case, I was the only eye witness the City had. Even though I received death threats, I came forward because it was the right thing to do and my testimony helped put a murderer and his accomplice behind bars. I would like for you to understand that the 1200 block was known to be a very bad block in the Central District before I opened Waids. That too, I knew I could change and did. Now it is no longer a ghetto. I'm proud to say that because of Waids, the 1200 block is no longer the scary part of town it used to be.

I have worked really hard to make Waids a good and safe place for the community. I have included in my response some articles written about Waids that will show just that. Waids is not a bad place and I hope to have proven this. We have done many fund raisers for causes such as New Orleans , Africa, Haiti, Doctors Without borders, and women's shelters, to mention a few. We have also hosted programs for after school youth, AIDS prevention, and drug prevention.

Waids is not your typical neighborhood bar. My dream is to make it a place of awakening for mankind. It is also known as "the House of Love". I believe we should live in peace and harmony with one another. This is what Waids stands for, not underage drinking or brawling. Please go to our website www.waidshouse.com so that you can see this for yourself.

Just like any other place there is room for improvement. I'm more than willing to work closely with the Seattle Police Department, as I always do, to better serve the community and to make Waids the place I envision. I believe I deserve the chance to keep my place in business and I implore you to give me that chance. As you know, opening a business is not easy and I have had my share of struggles to keep mine open. But I believe in myself, my staff and in fairness from my fellow human beings. All my life savings are invested in this place and many people depend on me including many employees, and last but not least, my native country Haiti. Thanks to Waids, after the big Earthquake, I was able to raise money to send back home and financially help Haitians in this community who need money to send to their relatives who were affected by it. Thanks to Waids, I'm still able to raise more money because the problem with Haiti is far from over…it has just begun. Since the Earthquake, I have put together a non-profit Organization called 'Erzulie Haiti Relief Fund'; the sole goal is to help rebuild the devastated country. Without Waids, all of this would not be possible.

I would like to thank you for giving me the opportunity to respond to this and to show my side of the story. Thank you for your time.

Yours Truly,
Waid Sainvil
If you are a Seattle local and have ever been to Waids, I'm sure you'll have no qualms signing this petition. If you are not, or have never been, please consider signing anyway. After signing you will be prompted to donate to the website hosting the petition. You DO NOT have to donate. Your signature will be collected either way, this is not a fund-raising attempt.
If you would like to write directly to the WSLCB, here is the address:
Alan E. Rathbun, Director
WSLCB
POST OFFICE BOX 4309
OLYMPIA, WA 98504-3098
Thank you for making it all the way to the bottom of this post! It's been a doozy, i know.
Sign the petition to have the liquor control board review Waid's case again