INFO STUFFS
OK, Go's new video does it again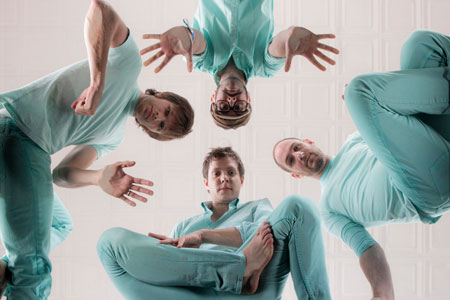 "All Is Not Lost," the latest video from the Grammy-winning rock band OK Go, world premieres today on the home page of The New York Times' website, which you can watch by clicking here, or better yet get your Chrome on and interact with the video built in HTML5.
OK Go teamed up with director Trish Sie (sister of lead singer Damian Kulash), the modern dance troupe Pilobolus and a team from Google to create the latest HTML5 Chrome Experiment and musical experience.The project showcases the latest in modern browser technology, using 12 separate windows to create a kaleidoscopic dance that is partially choreographed by the viewer. At the beginning of the experience, users are invited to type a message in English, Japanese, or any language using the Roman or Katakana alphabets, and the message is incorporated into the dance. The New York Times Magazine will run a photo feature on the making of "All Is Not Lost" this Sunday, July 31.
The collaboration marks another milestone in OK Go's ongoing challenge to the existing state of creativity and the music industry. Says singer Damian Kulash,
"Working with Pilobolus – and of course with Trish – has been great because they share our belief that last century's creative boundaries are irrelevant. These days, a great creative idea is a great creative idea, period. You don't have to choose in advance whether your outlet is records, or films, or dances, or a computer program. Videos don't have to be subordinate advertising material for albums, and dance doesn't have to be confined to the theater. We were like peas in a pod with Pilobolus, trying to make something that lives in the world of dance, and music video, and digital space, but isn't confined to any of those spaces alone."

"We've been talking for a long time about making a dance for small screens," says Itamar Kubovy, Executive Director of Pilobolus. "There is no one on earth we'd rather do this with than OK Go and Trish Sie – it's an inspired three-way marriage."
Short answer: it's cool as hell. Again.