INFO STUFFS
Yagottawantit! Interview: Walker Barnard (Vakant, Serialism, We Are) Berlin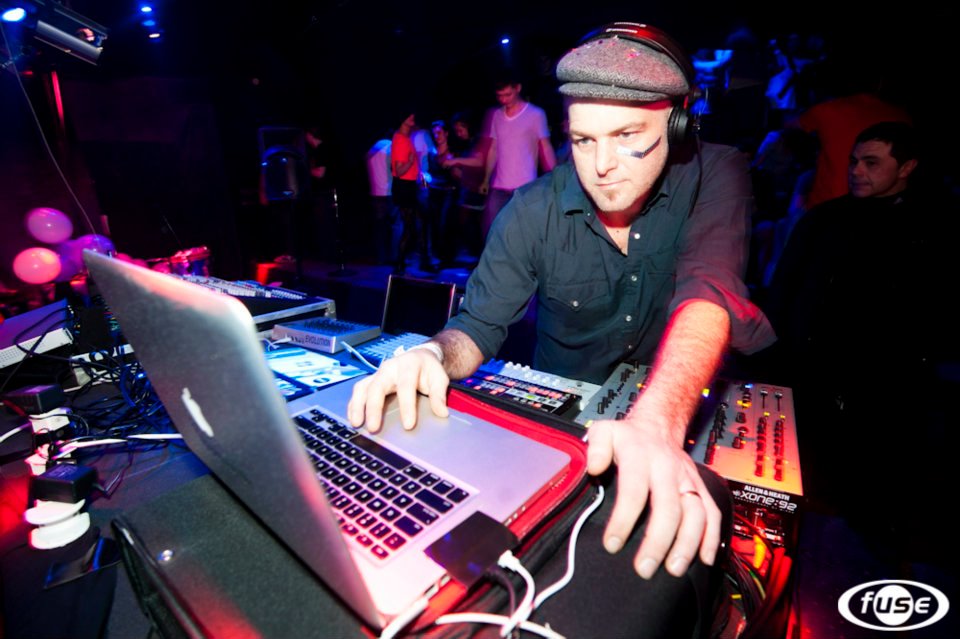 Welcome to the second in a series of interviews with the artists that will be bringing the thunder to Yagottawantit!, our 12 hour Sat. night/Sun. morning marathon event during the 2012 Decibel Festival. For this installment we chatted with Walker Barnard of Berlin-via-Sante Fe. Walker was at the top of my list of artists I wanted to see while at DEMF this year and, despite playing to a relatively empty room at some dive bar, he delivered a great set that was packed with funk, soul, and a splash of gangsta rap over some of the most lush techno/house I've heard in a while.
How long have you been making music, what's your studio setup like?
 I started playing bass back in 1989. And through experiences in bands, and then with the Dust Brothers, started to see the studio itself as an instrument. Around '94 or so lightning struck in the form of my first warehouse party.
After that I truly started down the road of production. Instead of immediately feeling like i had to dj, I was like "how do I make this music".
These days I'm sharing a studio with Lee Jones, and Mike Shannon.
Between the three of us we have a good bit of gear. The room is beautifully designed and built, perfectly suited to mixing and producing.
When I left the States and the studio I built in Santa Fe, I made a pact with myself to create the music I heard in my head with what I had on hand.
At that point when I moved to Berlin in 2008 it was a laptop, a controller and headphones.
These days I'm using a hybrid of hardware and software. And a combination of "in the box" mixes and analog mixes through our Midas Venice and TLA Tubetracker. Very much enjoying having both options at my fingertips.
I'm a firm believer in the truth being in what comes out of the speakers, not how you made it.
Do you DJ as well or only play live? In either case, top three tracks you're playing right now?
 These days both. But I started out playing live. One informs the other, and I find it essential for me to do both.
Homage A Trios- Sunday Afternoon
Will Saul, Tam Cooper- Hi Lo
Walker Barnard- The Long Count
Any standout gigs over the last year?
Playing live at Panorama Bar last Christmas was definitely a high point.
There is nothing like getting that room moving and feeling the energy of the crowd wash over you.
I played between Ed Davenport and Sammy Dee and it was a Sunday. Very special vibe.
And quite a few great ones at Club Der Visionaere over the last 8 months.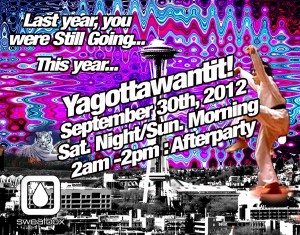 Any new releases on the horizon?
I have an EP coming out on Cesare Vs. Disorder's label Serialism in October, and another EP on Jin Choi's label Private Gold
I'm wrapping up for later in the year. Besides that I'm doing an album project with hip hop artist Mike Ladd and
have some exciting new releases that I will be able to talk about soon.
Best set, either live or DJ, you've seen in the last year?
Damn man.. That's a hard one.. I am moved for such different reasons by experiences in the club.
Sometimes it's how a DJ is so in tune with themselves and the crowd, other times it's their selection and musical conversation.
A few weeks ago at Watergate Dixon played on the main floor all night and into the morning. The whole time I was there he didn't play a straight bass drum on the quarter note and kept the crowd moving with a constantly changing bass pulse.
Very seductive music…
There was also a party I threw at Club Der Visionaere that carried over from the last Vakant/Dumb Unit night at Watergate,
where Jeremy P. Caulfield, Cesare Vs. Disorder, Dewalta, Sylvie Foret and I played in and out of each other and back to back from about 2 in the afternoon until 10 the next morning.
We have all been playing together and having a musical conversation for years, and that one really hit the spot for me.
Zip and Margaret Dygas most times they play Panorama Bar..
Also Guillaume & The Coutu Dumonts new live project with Dave Aju on vocals is not to be missed..
The man keeps upping the bar for live sets.
Oh right, you asked for one. Ah well.
Any thoughts on your upcoming gig in Seattle over Decibel Festival weekend?
I'm pretty excited about it. It will be the first time I play in Seattle
(besides an impromptu dj set at the Decibel festival many years ago).
And after a summer of mostly dj sets it will be an opportunity to play all the new material I have been cooking up.
Not to mention that I love to play extended live sets. Certainly not common in the States or Europe for that matter.
Yep, stoked.. Let's do this!
What comes to mind when you hear the phrase "Yagottawantit"?
Yoda
A small aboriginal town in Australia's outback near Ayers Rock
A sweaty bumping underground party..
In that order..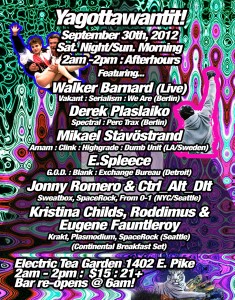 ***
Walker Barnard plays Yagottawantit! Sat. night./Sun morning Sept. 30th during Decibel Festival. Party goes from 2am-2pm. Check the promo vid below.
Decibel Festival lineup and pass info here.