INFO STUFFS
2013 Closer Festival Announces Schedule and Full Lineup (Portland, OR)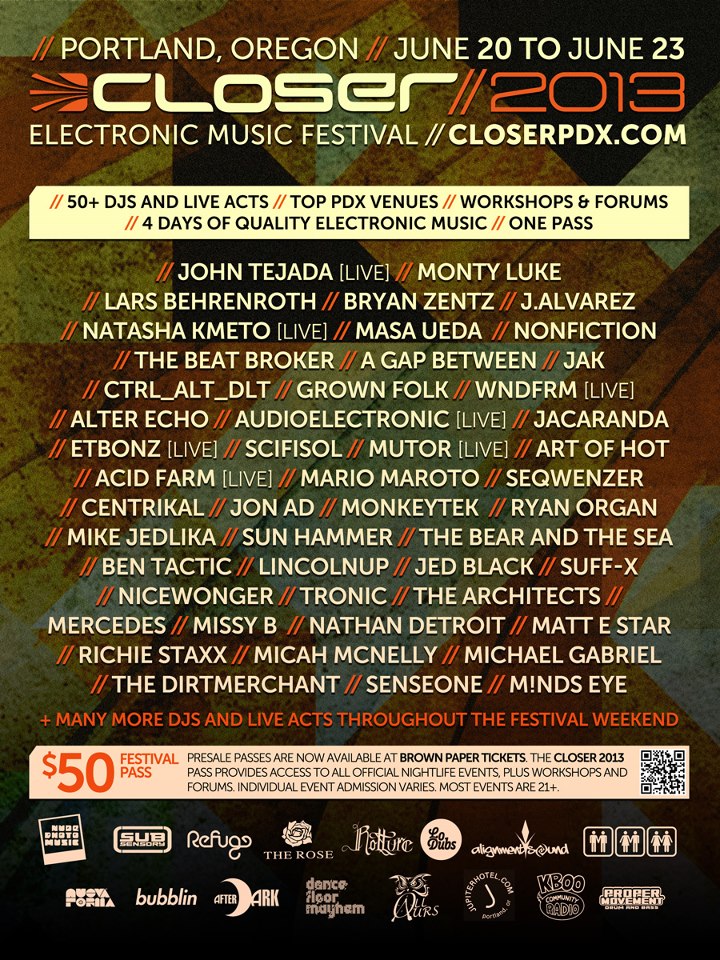 From the press release:
Closer Electronic Music Festival // PDX 2013 takes place June 20-23 and they've announced the complete event schedule, lineups and ticketing.
Highlights include:
John Tejada presenting the U.S debut of his new all hardware live set;
Lars Behrenroth of the world-renowned Deeper Shades of House radio show;
Black Catalog label boss and 2012 IDMA nominee Monty Luke;
Seattle act J.Alvarez, ranked one of 2012's top new artists by XLR8R;
San Francisco's purveyor of exotic disco and deep house The Beat Broker;
a release party for Natasha Kmeto's 'Crisis' on Dropping Gems;
And techno artist Masa Ueda, label boss at Torque Japan.
The festival also features tons of great regional and national talent, including Nonfiction (LA), Jamal (SF), Ctrl_Alt_Dlt (Seattle), Mario Maroto, Art of Hot, Audioelectronic (Live), Jed Black, Centrikal, JAK, Ben Tactic, IG88 (Seattle) and many more.
Events take place at Refuge (2 nights x 3 stages!!), Rotture, The Rose, Crush, Holocene. Hear showcases and label artists from Portland-based labels and crews including All Ours, LoDubs, Nude Photo Music, Basscult, Nueva Forma, SubSensory, Proper Movement and more. There's also a free daytime park event plus forums and workshops. The $50 Closer pass provides access to all of it!
Full details and festival schedule can be found at http://closerpdx.com/