INFO STUFFS
Breakdance Compitition this Saturday @ EVO Seattle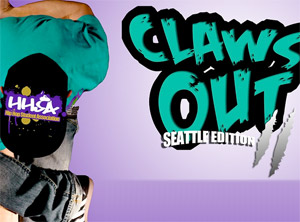 Sorry, non-Seattleities, this post is for the locals! This Saturday EVO in Fremont will host Claws Out II, a "3-on-3 BBoy/BGirl" competition put together by Claws Out and HHSA (Hip Hop Student Association of the University of Washington). The event, which will feature a performance from Common Market's Ra Scion, will pit dancer against dancer in a bid for the $1200 prize. On the dancer roster:
Pacman VS. MR. Fantastic
RJ (Super Cr3w) vs. Atomic Goofball
Menno (Holland) vs. Casper (Canada)
K-Mel (Boogie Brats/Zulu Kings) vs. Steelo (Killafornia/Groovaloos)
Luigi (Skill Mehodz) vs. Lil Rock (Killafornia)
Entrance will cost you $12, unless your a student in which case you'll need your ID and a ten-spot. You will probably also want to bring a fat stack of cash for some casual shopping, as EVO has a ton of killer clothing and accessories for the hip, sporty city-dweller. It's one of my favorite haunts.