INFO STUFFS
Decibel Festival: Sept. 26 – 30th, 2012 (Seattle)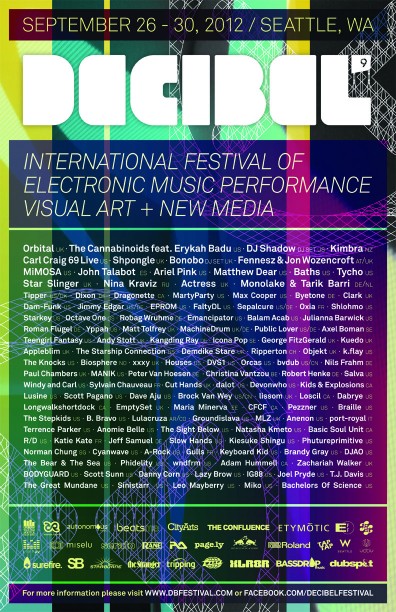 Here's the lastest press release from the folks over at Decibel Festival. Definitely gonna be one of the hottest years to date. So much action in store, it's tough to know where to begin. We've bolded a few of the acts that we're especially excited for in the lineup section, take a look and get a pass, you'll be glad you did.
***
WELCOME ONE-AND-ALL TO THE 2012 DECIBEL FESTIVAL
Founded in 2003, Decibel has become a unique platform for exposing attendees to leading-edge multimedia performance from around the globe.
With a focus on live electronic music performance, deejay culture, interactive multimedia art, state-of-the-art sound and technology based education, Decibel has solidified itself as one of the premier electronic music festivals and promotional organizations in the world.
The 9th edition of the Decibel Festival will be happening September 26th through the 30th throughout Seattle.
The 2012 Decibel Festival program includes:
160+ artists from, 24 countries, across 5 days
14 premier venues across Seattle
34 club based concerts
5 OPTICAL A/V concerts
3 film screenings
3 day conference focusing on technology, business and music (TBA)
In addition, Decibel is proud to be co-producing
8 recommended after hours events
4 boat parties
(><) 2012 DECIBEL FESTIVAL LINE-UP (><)
 AUDIO & A/V PERFORMANCES BY Orbital – UK (live) Erykah Badu feat. The Cannabinoids – US (live) DJ Shadow – US (DJ) Kimbra – NZ/AU (live band) Bonobo – US (DJ) Carl Craig 69 Live – US (live a/v) Shpongle presents The Masquerade – UK (live a/v) MiMOSA – US (live) John Talabot feat. Pinoal – ES (live) Ariel Pink's Haunted Graffiti – US (live band) Matthew Dear – US (live band) Nina Kraviz – RU (DJ) Actress – UK (live) Star Slinger – UK (live) Monolake + Tarik Barri – DE/NL (live a/v) Baths – US (live) Dixon – DE (DJ) Tycho – US (live band) Octave One – US (live) Dragonette – CA (live band) MartyParty – US (live) Clark – UK (live) Jimmy Edgar Majenta Live – DE (live a/v) Byetone – DE (live a/v) Oxia – FR (DJ) Robag Wruhme – DE (DJ) Emancipator – US (live) Biosphere – NO (live a/v) Sepalcure – US/DE (live) Max Cooper – UK (live) Shlohmo – US (live and DJ) Balam Acab – US (live a/v) Roman Flugel – DE (DJ) Julianna Barwick – US (live) Matt Tolfrey – UK (DJ) FaltyDL – US (live) Axel Boman – SE (DJ) Demdike Stare – UK (live A/V and film score) Starkey – US (DJ) Bruno Pronsato (live) Tipper – UK (live) Houses – US (live band) Yppah – US (live band) Dam-Funk – US (live) Machinedrum – DE (live) Andy Stott – UK (live) Slow Hands – US (DJ) Nils Frahm – DE (live) Teengirl Fantasy – US (live) Appleblim – UK (DJ) Kangding Ray – DE (live) George FitzGerald – UK (DJ) The Knocks – US (live band) Objekt – UK (DJ) Ripperton – CH (DJ) Kuedo – UK (live) Eprom – US (live) k.flay – US (live band) DVS1 – US (DJ) xxxy – UK (DJ) Orcas – US (live band) bvdub – US/CN (live) Salva – US (live) Paul Chambers – UK (live) Dabrye – US (live) Peter Van Hoesen – DE (DJ) Icona Pop – SE (live band) Christina Vantzou – BE (live w/ orchestra) Robert Henke – DE (live a/v) Windy and Carl – US (live) M A N I K – US (DJ) Brock Van Wey (live) Sylvain Chauveau – FR (live) Cut Hands – UK (live a/v) Braille – US (live) dalot – US (live a/v) B. Bravo – US (live) The Starship Connection – US (live band) Devonwho – US (live) The Sight Below – US (live a/v) Kids & Explosions – CA (live) Lusine – US (live) Dave Aju – US (live) Jeff Samuel – DE (DJ) Longwalkshortdock – CA (live) Jerry Abstract – US (DJ) Loscil – CA (live) port-royal – IT (live band) Terrence Parker – US (Dj) Houses – US (live band) EmptySet – UK (live) Maria Minerva – EE (live) The Stepkids – US (live band) Phutureprimitive – US (live) CFCF – CA (live) Pezzner – US (world debut live set) Lulacruza – AR/CO (live band) Ghosts on Tape – US (live) Miles aka MLZ – UK (DJ) Jon McMillion – US (live) Anomie Belle – US (live) Basic Soul Unit – CA (live) Ginz – UK (DJ) J. Alvarez – US (live) The Great Mundane – US (live) Anenon – US (live) Natasha Kmeto – US (live) Sinistarr – US (DJ) Jerry Abstract – US (DJ) Norman Chung – SG (DJ) Bachelors or Science – US (DJ) Danny Corn – US (DJ) Keyboard Kid – US (live) A Gap Between – US (live) Samo Sound Boy – US (live) IG88 – US (live) Cyanwave – US (live) Katie Kate – US (live) Gulls – US (live) DJAO – US (live) Tyler Tastemaker – US (DJ) The Bear and the Sea – US (live) Michael Manahan – US (DJ) The Perfect Cyn – US (DJ) Kid Hops – US (DJ) Bodyguard – US (live) Recess – US (DJ) Justice + Treasure – US (DJ) Lazy Brow – US (DJ) Kid Smpl – US (live) Phidelity – US (DJ) Jeromy Nail – US (DJ) wndfrm – US (live) Demo – US (DJ) Shawn Reynaldo – US (DJ) Ramiro – US (DJ) Grym – US (DJ) Homemade Weapons – US (DJ) Rollie Fingers – US (DJ) Jimi Jaxon – US (DJ) Tyler Morrison – US (DJ) Deepvibez – US (DJ) Sappho – US (DJ) Apolinario Ancheta – US (DJ) + MORE TBA
VISUAL PERFORMANCES & INSTALLATIONS BY
AntiVJ (Joanie Lemercier) – UK Scott Pagano – US Tarik Barri – NL Jon Wozencroft – UK A-Rock – CA lissom – US Zachariah Walker – UK Kiesuke Shingu – US Avneesh – SG Rafael Anton Irisarri – US Leo Mayberry – US Brandy Gray – US TracerVisuals – US Scott Sunn – US Joel Pryde – US T.J. Davis – US Miko – US Thoughtcloud – US Colorcubic – US Sean Curtis Patrick – US Mark Henrickson – US + MORE TBA Visit the 2012 Decibel Festival Artists Page for more info on the 2012 Decibel Festival line-up (><) 2012 DECIBEL FESTIVAL PROGRAM (><)
This year's Decibel Festival boasts our largest program to date, including
160+ artists from, 24 countries, across 5 days
14 premier venues across Seattle
34 club-based concerts
5 OPTICAL A/V concerts
8 recommended after hours events
4 boat parties
3 film screenings
3 day conference focusing on technology, business and music (TBA)
For more information, visit our Showcases page*
*Individual tickets are available per event via the Showcases page