INFO STUFFS
DEMF After-party Schedule…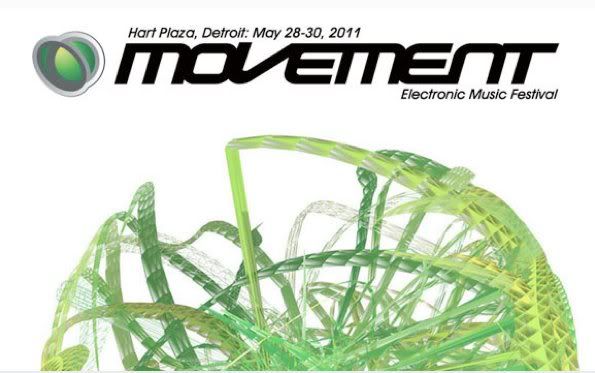 DEMF is a mere 2 days away and after careful deliberation I've finally figured out the after-party schedule I'm trying to accomplish. In years previous I've thrown way too much on my plate and run myself ragged. This year we're keeping it simple. Take a look and hopefully, Ill see you on the dance-floor.
Friday:
The "Radio Skool on the Rooftop" party was looking better when it was actually on a rooftop, apparently Greektown Casino doesn't like the noise and is forcing this party to move to the Works, but this is still a solid lineup and it's been entirely way too long since I've seen Stacey Pullen, so this is looking to be Friday's destination.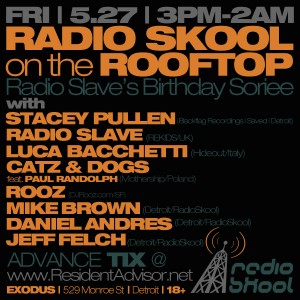 Saturday:
We'll be joining the masses at City Club for Richie's "Control" party. There's no doubt in my mind that this is gonna be a madhouse and packed to the gills, but it's been years since I've seen Hawtin play and what better time than now. Function 1 speakers being brought in, bring your earplugs.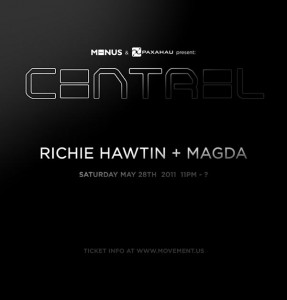 Sunday:
Going old-school rave style with Derek Plaslaiko and Co at No Way Back. A quality lineup with a bullshit-free aesthetic, this will be a nice way to get good and primed for when things start getting really weird.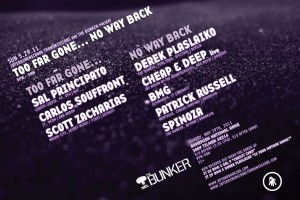 Monday:
Which leads us to the show I've been looking forward to since I stumbled out of it last year, Shit Show 2, thrown by the fine folks over at Gary Springs Hunting Club and Random Reason. Two rooms and 24 hours of "pure fuck music," as GSHC describes it. I can only imagine the heights of absurdity we're gonna reach at TV Bar this year.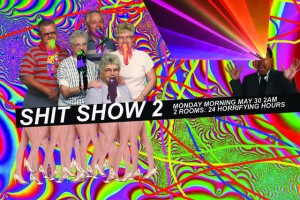 Lineup:
METRO AREA (Environ-NYC)
JIMMY EDGAR (Warp)
RECLOOSE (Planet e-New Zealand)
FRANKLIN DE COSTA (Sender/Trapez-Berlin)
CESARE VS DISORDER (Clink / Dumb Unit-Berlin)
EDDIE C (7 Inches of Love-Vancouver)
LE LOUP (Wolf+Lamb-Paris)
SLOW HANDS (Wolf+Lamb/MOL-NYC)
DEATH ON THE BALCONY (Airdrop-UK)
K ATOU (Lick My Deck-Greece)
NIKOLA BAYTALA (Surface Records/KONTROL-SF)
CLINT STEWART (Paso Music, Nightlight-SF)
COM TRUISE (Ghostly-NYC)
MIKE SERVITO (Ghostly-NYC)
DEASTRO (Ghostly)
WAAJEED (Bling 47 NYC-Detroit)
BIG BULLY (Get Physical/Mo's Ferry-NYC)
DEAD SEAL (Auralism-SF)
BLACK LIGHT SMOKE (Scissor and Thread-NYC)
RICH KORACH (As You Like It/Paxahau-SF)
ZE DARK PARK (featuring Perspects (Ersatz Audio/I.T.), Goudron, (Ersatz) & Dr. Disko Dust (Disko Raw)
SECRETS (GSHC/Secret Mixes Fixes)
CTRL_ALT_DLT (Sweatbox, From 0-1 Seattle)
PETEONE (JQM-Chicago)
ERNO THE INFERNO (GSHC/Tour Detroit)
E SPLEECE (Exchange Bureau)
DAN WAGNER (G.O.D.)
DETHLAB (Detroit)
ATAXIA (Detroit)
SOREN (Dead Tiger)
DARKCUBE (DTM)
MOBILE (Detroit)
ANDY GARCIA (Docile)
MR JOSHOOA (Random Reason)
***
There were close to 50 after-hours events going on at last count so there are clearly some options on the table. Here's to another year of pushing it to the limit and seeing how much music we can cram into a 4 day period. See you in Detroit!