INFO STUFFS
Belong releases Common Era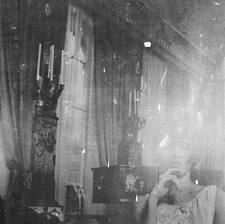 New Orleans duo Belong gives us a wall of semi-progressive noise for their recent album release, Common  Era.
Not having heard any of their other music, I had a clean slate for the listen, but the sound certainly gets muddy rather quickly. I admit I had a little trouble getting a comfortable listening level, right from the beginning. At full reference level, the tracks scared my cats into another room and weirded out the neighbor's kids enough that they actually stopped screaming at each other for a little while. But then when I turned it down a touch, the music sounded like it was coming from the other side of the wall. Interesting engineering trick, that is. I had better luck with headphones.
Throughout the album, and perhaps by design, the tracks are all almost indecipherable from each other. The backing for each sounds like an elephant-sized broken vacuum cleaner is having a heavy breathing contest with a pitch corrected jet engine. Listen through the first 15 seconds of all of the songs, and you'll believe me. The vocals are all swamped in reverb and totally unintelligible. The drum lines, when present, are all first cousins to each other, and I kept having a clear mental image of a man in an empty garage hitting a garbage can with the soles of a pair of Converse high tops.
I had some of the same feelings listening to this album as I did with some Animal Collective and Gold Panda tunes. They're just so dense that my mind can't follow any part of them logically. Reading up on a little big of Belong's history, apparently that density is part of what they're known for. I just wasn't prepared for it.
So if you dig the wall of sound or enjoy harmonic distortion at its finest, the album is definitely for you. If that's not your thing, you should at least give it a listen to know that music like it exists out in the world. It's definitely an experience in itself, and you can always use it as a weapon against annoying children.