INFO STUFFS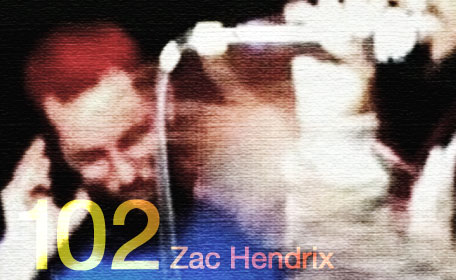 NAME
Zac Hendrix
CITY
Federal Way
AFFILIATIONS
Del The Funky Homosapien / All Flags Burn / Insult2Injury
GENRES
LINKS
PodOmatic / facebook / soundcloud
AIRED
October 4th, 2011
MIX DESCRIPTION
Underground hip hop from the accomplished DJ of Del The Funky Homosapien, Bukue One and Insult2Injury
BIOGRAPHY
Zac Hendrix is a multi-talented DJ/producer from Seattle, Washington, U.S.A. He is known world-wide as an energetic live performer, intensely dedicated music historian/preservationist/teacher, and recording artist. In an era when it's more common for professional DJ's to choose the easiest or most commercial path possible, Zac has chosen to follow his heart every step of the way and has still managed to grow.
In 1996, after a couple years of DJing and collecting, Zac met Leland Jones, a multi-talented artist who had moved to the area from San Diego. The two formed Insult2Injury and began DJing and performing original material together along with a rotating cast of talented co-contributors. Soon after, Hendrix, Jones, and several other Seattle-area artists began living under one roof. They were among the first in the area to perform as a group of "turntablists" and gained a reputation for being both ahead of their time artistically and extremely respectful of the culture that spawned them. As a team, Insult2Injury became the first DJ instructors at The Experience Music Project upon it's opening in the summer of 2000. This opened the doors to even more residencies and appearances. In his early 20's, Zac was already appearing with artists such as Blackalicious, The Coup, Digital Underground, jazz violin great Michael White, and Gil Scott-Heron.
One of the keys to Zac's growth as an artist was the time he spent improvising on turntables along with several bands at the now defunct 700 Club. The club's main promoters were interested in putting on more hip-hop shows in Seattle, so Zac and Leland suggested that they book Abstract Rude and Aceyalone from Project Blowed in Los Angeles, among others. This led to some major life changes.
Aceyalone's tour manager on his trip to Seattle was a young rapper and entrepreneur from Oakland named Bukue One. He was blown away by Insult2Injury and made sure to stay in touch after his initial visit. Zac became his DJ whenever he came to town to perform and the two hit it off. In the fall of 2000, Bukue had the opportunity to tour the U.S. with Souls of Mischief and The X-Ecutioners as an opening act and invited Zac to come along. Then, in the Spring of 2002, Bukue One started managing hip-hop legend Del The Funky Homosapien from Hieroglyphics. It was at this time that Zac Hendrix, was selected to become Del's DJ – a tremendous honor.
Unfortunately, not long before this, Leland Jones was stricken with a serious illness that sidelined him for several years and the tertiary members of Insult2Injury began to go their separate ways for various reasons. Insult2Injury had already made quite an impact locally, and had in fact been offered several record deals from up and coming independent labels, but neither Hendrix or Jones felt like the time or situation was right. Their vision for Insult2Injury was and is more about brotherhood and creative freedom than it is about marketability. While the buying public at large may not be all that clued-in about Insult2Injury, the duo remains active to this day in several different incarnations including All Flags Burn (with Phreewil), HendrixJones, and Silverware Parachute.
During his 9+ years (and counting..) with Del, Zac developed from simply a good DJ into a seasoned veteran with a wide array of skills. Simply known for his scratching at first, he has shown himself to be an expert music director, producer, hypeman/vocalist, road manager, and record dealer with a collection of more than 15,000 pieces despite selling thousands of records per year. He has yet to play a song he's ashamed of in public and maintains that music is a powerful tool that should be used to bring people together. His mix-cd compositions are among the best ever made (despite their not being a salable format due to copyright law) and showcase his versatility and tremendous mixing talents. Recordings like "Winning Hand", "Midnight Hotline Rendezvous", and "Where'd You Get Your Funk From?" really blur the line between "DJ mix" and "album" in several ways. Similarly, when asked to provide scratches in songs for Del, Bukue One, and others, Zac's contributions often became classified as co-production due to his attention to detail and tendency to voluntarily add percussion and synthesizer parts.
Zac Hendrix is still actively touring the world and recording with Del The Funky Homosapien, Bukue One, and Insult2Injury. He continues to teach both children and adults about DJing and hip-hop culture through his work with Skullcandy, Tacoma's L.I.F.E. program, and private instruction. Seattle crowds can't get enough of HendrixJones' regularly occurring modern soul events that are re-popularizing the best music of the early 1980's. Recently, Zac has begun to provide music for soundtracks, video games, and commercials along with longtime friend and fellow resident of Federal Way, Dynomite D (noted producer and Beastie Boys/Kid Koala co-contributor). Be sure to keep an eye out and an ear open for what Zac Hendrix has in store for you next!
TRACKLISTING
Roy Ayers - I Did It In Seattle - BBE
Rob O - Life I Live - Uniq
T-Love - Chiquita - Virgin
Ol' Dirty Bastard - Baby C'mon (instrumental) - Elektra
Mysterme & Dj 20/20 - Whatever, whatever - Gee Street
Medaphoar - Bang Ya Head (instrumental) - Stones Throw
Soul Kid Klik - Spark Da Mic (fatality mix) - Soul Kid
T-Max - Execution Style (instrumental) - Damage
Saafir - Skanless - Pockets Linted/Nu Gruv
The Art Of One Mind featuring El Da Sensei and Chip-fu - One Mind - BBE
Main Source - Atom - Actual
Ugly Duckling - Lower The Boom (instrumental) - Fat Beats
JVC Force - 6 Feet Back On The Map - Big Beat
Chill Rob G - Let Me Show You - Wild Pitch
Ray Bryant - Andalusan Nights - Cadet/Chess/Janus
Aceyalone - Faces - Project Blowed
Jurassic 5 - I Am Somebody (instrumental) - Up Above
KMD - Gimme - Nature Sounds
Slick Rick - Moses - Def Jam
Joe Vitale - Step On You - Atlantic
The Albert - Pity The Child - Perception
Mr. Complex - Feel Me - Core
The Nonce - Articulate With Math - Wild West
Kankick - Always Groovin' On The Ship In The Sea - Greylabel
Sic Sense - Positional Bypass - Luge
The Basement Khemist - Vibrate (instrumental) - Beyond Real
Rascalz - Really Livin' - Calabash
Y Society - Never Off (On & On) (instrumental) - Tres
Hieroglyphics - The Last One (Go The Length) - Hieroglyphics Imperium
Blown Celebs - Trifecta (instrumental) - Threepointfive
The Troubleneck Brothers - Back To The Hip-hop - Stepsun
Sick Lyrical Damager - It's Over - Vmax
Pharoahe Monch - Let My People Go - Duck Down/Fatbeats
Abstract Tribe Unique - Through These Streets - Ocean Floor
Roy Ayers - I Did It In Seattle - BBE