INFO STUFFS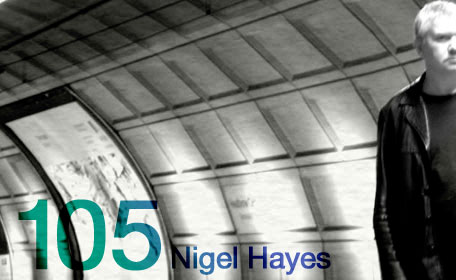 NAME
Nigel Hayes
CITY
London
AFFILIATIONS
GENRES
LINKS
AIRED
November 7th, 2011
MIX DESCRIPTION
Chill and relaxed, this mix of broken beat, afro and nu jazz is just in time for those cold winter days
BIOGRAPHY
Nigel Hayes is a wildly accomplished artist. As a teenager he began DJ-ing and soon started his own weekly jazz-funk/rare groove party Tasty Jam which featured guests such as Gilles Peterson, Norman Jay, Nicky Holloway and Jasper the Vinyl Junkie. A short stint in Rimini, Italy followed where Nigel played the Blue Note, Cellophane and his own boat parties, Rimini Afterhours. But it was his move to Glasgow where he quickly secured residencies at the Sub Club with Harri, Rain with Nick Peacock, The Arches and The Tunnel that established Nigel on the DJ circuit. He inaugurated the New York house/disco/soul flavored Liberty City with fellow Bomba Records colleague Colin Gate of Deep Sensation.
This time also saw the start of Nigel's recording career when he and Lars Sanberg (AKA Funk d'Void) formed Chaser with the jazz/techno chart-topper "Sides of Iron" on Soma as their debut. They then scored the award-winning film "Dead Eye Dick" for Film on Four and followed up with the Soma EP "Life in Loisaida."
Simultaneously Nigel was working with Prescription/Fragile recording artist Abacus (Austin Bascom, A:xus). They debuted as Charly Brown on Chicago's Guidance Records with "Twilight Zone"/"Sub Club" followed by "Freaked Out"/"My Planet Rocks." After a few live performances in Glasgow, he made the big leap across the pond to New York City.
While managing the record store Dance Tracks in New York, Nigel continued to record for Guidance Records, played underground parties, and did regular guest spots on WNYU 89.1FM. Soon after, he and Lars recorded Chaser's debut album "Game On" which was released in 1999 and garnered critical acclaim in the music press and received major support from DJ's such as Gilles Peterson, Ross Allen, Bob Jones, Jazzanova and Ashley Beedle. It also landed them a remix for Marcel on Nuphonic, inclusions on Compost Records' "Future Sound of Jazz" series, Schema's "Break n Bossa" and Darren Emerson's "Global Underground." They also performed numerous live sets including their debut at Barcelona's Sonar Festival for an audience of 10,000 and Roskilda in Copenhagen. They are currently working on their second album for Soma.
Since his relocation to London, Nigel has recorded as The Prophet for Black Jesus with two singles: "Look to the Light" and "When You Find Love." He has launched his own label, Twilight, for which he has recorded as Mutant Jazz with "Shades of Red," Charley's Vault with "Hear My Answer"/"Like I Like It" and Caligula with "I Want You." Charley's Vault has been included on several compilations including the "Mixmag October 2000" and "Tyrant."
Since October 2003 Nigel is member of the resident DJ-pool at the Passage, Vienna's club #1 in these days and he is still playing internationally in places such as the USA, Canada, Germany, Russia, Austria, France, Sweden, Iceland, Belgium, Finland, Norway, Denmark, Spain, Hungary, Bulgaria, Slovakia and Czech Republic.
TRACKLISTING
Quantic Soul Orchestra - Furthest Moment
Soul Parlour - Get Into The Groove
Azymuth - Roda Piao (Spiritual South Mix)
Bebel Gilberto - TM Cosmos Dub
Nigel Hayes - Slow Burn
Troubleman - Strike Hard
S-Tone Inc - Revelation
Alesgrond - Cubalibre
Dr Abstract - Struck on Jazz
Truby Trio - Carajillo
Nigel Hayes - Bunny Chow
Nigel Hayes - Fandango