INFO STUFFS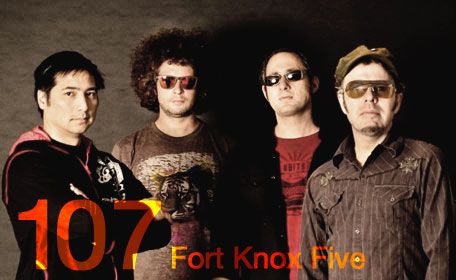 NAME
Fort Knox Five
CITY
Washington DC
AFFILIATIONS
GENRES
LINKS
website / facebook / soundcloud
AIRED
November 21st, 2011
MIX DESCRIPTION
Fun mix of mostly breakbeat with some house, electro swing and gypsy tunes throw in
BIOGRAPHY
The FORT KNOX FIVE have the midas touch for producing heavy hitting records. Since 2003, they have released an arsenal of floor rocking singles and remixes from their Washington DC based label, Fort Knox Recordings. Sid Barcelona, Jon Horvath, Rob Myers and Steve Raskin are the masterminds behind the group. Their signature 'Fort Knox Sound' seamlessly interweaves live instrumentation with funky electronic breakbeats. In 2006 they released the critically acclaimed 'The New Gold Standard' to showcase the groundbreaking sounds from their premier funk and soul label.
The FORT KNOX FIVE's talent for organic hooks has made them highly sought after producers and remixers. They have over 20 remixes to their credit, including monster mixes for A. Skillz and Krafty Kuts, Kraak & Smaak, Ursula 1000, Dynamo Productions, and Mo' Horizons, as well as remixes for the legendary Tito Puente, Louis Armstrong, and Bob Marley. The FORT KNOX FIVE has coined the term 'Reminted' to represent their signature remixing style. They released the first 'Reminted' CD showcasing some of their favorite productions in a continuous DJ mix
in 2007.
Further cementing the FORT KNOX FIVE's reputation, Afrika Bambaataa—the godfather of hip-hop—asked them to produce four tracks on his latest album Dark Matter Moving at the Speed of Light released on the legendary Tommy Boy Label. Tapped by URB Magazine for its annual "Next 100" list, the FORT KNOX FIVE's music has been featured on major compilation, films, television shows, commercials and video games. Most recently their music has been featured in the FRINGE tv show on Fox, and video games Tiger Woods 2009 & Facebreaker. They also finished exclusive production on six original interactive tracks in the Fort Knox style for EA Sports' Skate 2 & Skate It game soundtracks.
As DJs, they know how to rock a party with infectious grooves that effortlessly move from funk, reggae, and hip-hop to prime time beats & breaks. Their unique DJ style has proven irresistible to clubgoers worldwide. They have performed on 5 continents, and in over 25 different countries. Their music & skills caught the attention of Gwen Stefani, who asked the FORT KNOX FIVE to be her tour DJs for her Harajuku Lovers tour with the Black Eyed Peas.
The Fort Knox Five have just released their next label compilation, The New Gold Standard 2, which features 4 new Fort Knox Five songs along with new tunes from their Fort Knox Recordings label mates.
TRACKLISTING
Solo Moderna - The Scatterer
Kraak & Smaak - Call Up to Heaven (Grandmono Remix)
CMC & Silenta - Get It On Now feat. MC Fava
Feel Good Productions - Lick It Down
Thunderball - IC Colors (Qdup Foundation Remix)
All Good Funk Alliance - Man With A Jam Plan (Fort Knox Five Remix)
The Beatles - The Word (The Captain Remix)
Tom Drummond & JMC - Again & Again & Again
The Breakbeat Junkie - Sound Of A Champion
A.Skillz feat. Krafty Kuts - Happiness
Ray Charles - Hit The Road Jack (Gary Caos Remix)
Parov Stelar - Libella Swing
Malente & Dex - Gipsy Kings feat. Analogik
Derrick L Carters Juke Joint - Boiling Point
Mo´ Horizons - Southern Fried Funky Lovesong