INFO STUFFS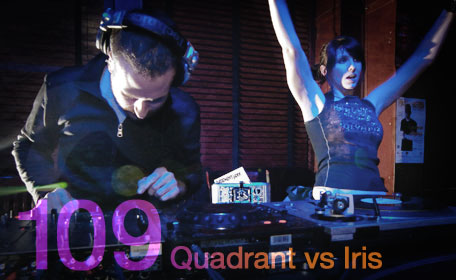 NAME
Quadrant vs Iris
CITY
Seattle
AFFILIATIONS
Renegade Hardware / Citrus / Tap Tap
GENRES
LINKS
Soundcloud / fb / soundcloud / fb
AIRED
December 5th, 2011
MIX DESCRIPTION
Heavy-hitting drum and bass from two Seattle drum and bass heavy-hitters
BIOGRAPHY
Quadrant have been writing quality Drum and Bass for nearly eight years. From their humble origins as a group of hungry young producers in a Philadelphia basement, to their current status as respected artists on the worldwide scene, their goal has always been the same: make music that they are proud to call their own.
Having originally gained modest notoriety for their bootleg of Faithless's "Crazy English Summer", 2005 saw their debut release, "Arachnid", on the legendary UK label Renegade Hardware. During the next year, they released three more tunes on Hardware, most notably "Manipulated Living" on the Carpe Diem LP, a track that hasn't left many DJs' crates since. Since then, their output has been slow but steady, and they have amassed a highly respected slew of appearances on Triple Vision labels Citrus and Fokuz, showcasing their equal proclivities for dancefloor impact and melodic beauty.
2011 represents a remarkable push forward for Quadrant; the volume of their output has greatly increased, but like a fine wine, the years have only sharpened their ear for quality and detail. A forthcoming collaboration with like-minded producers Allied on Trust in Music, a killer remix swap with Italy's venerable Dabs on Citrus, several new solo tunes in the pipeline, and worldwide DJ support spanning the gamut from Goldie to State of Mind, are serving to make this an exciting time for Quadrant, their music, and their loyal fans.
Iris was introduced to electronic music at age 13, when she first heard "Insomnia" by Faithless on Seattle's C89.5. Since then, her love affair with themusic has only intensified as she has honed a diverse set of tastes and an equally exacting repertoire of skills behind the decks. Her journey has taken her from UK Hard House, into the sounds of Trance and Progressive, finally culminating in her current focus of Deep Drum and Bass, Techno, and more recently, French House.
Iris has one overriding principle: always play what she considers to be the best music the scene has to offer. These days, that means drawing on artists such as Ulterior Motive, Break, Heavy1, Survival, Icicle, and Quadrant. As new exciting artists appear, rest assured she will discover them, and continue to push sounds that push boundaries
TRACKLISTING
Rockwell - Aria - Critical
Ultra Clean - Icicle & Commix - Shogun Audio
Alien Groove - Icicle - Shogun Audio
Catch 22 - Skeptical - Ingredients
Ed Rush & Optical - Medicine (Matrix Remix) - Virus
Dabs & June Miller - Ditch - Horizons
Enei, MC DRS - Obsession feat. MC DRS - Critical
DBR UK - Fortress VIP - Dispatch
Lynx & Henree - Deez Breakz (feat Kemo) - Soul:r
Homemade Weapons - Copperhead VIP - Dub
Need For Mirrors - Pitchfork - SGN:LTD
Rene LaVice - Pulserate - Machinist
Lenzeman - Mass Effect - Metalheadz
Quadrant & Iris - Sparse - Dub
Enei - Stonehead - Critical
Quadrant - Trompe l'oeil - Citrus
Heavy1 - Voyager 2 - Smptm
Dub Phizix - Domepiece - Ingredients
Dabs - Crawler (Quadrant Remix) - Citrus
Enei, Riya - No Fear feat. Riya - Critical
Homemade Weapons - Slivers (VIP) - Dub
Sunchase & Nickbee - Sleep On the Stairs - Horizons
Flame & Displaced Paranormals - Resistance (Subterra & Dekko remix) - Modulate
Noisia - Hand Gestures (feat Joe Seven) - Vision
Icicle - Running From Arrows - Shogun Audio
Kasra & Jubei - The Rift - Critical
Heavy1 - Millers - Samurai Music
Hybris - The Cleaner - Critical
Calibre & ST Files - Falling Down
Rockwell - My War - Shogun
Skeptical - Blue Eyes - Ingredients
Quadrant & Homemade Weapons - Tilt/Shift - Citrus
Dub Phizix - The Editor - Soul:r
Sinistarr & K-Dan - Apollo - Tech Noir
ASC & Method One - Deadlock - Free!
Homemade Weapons - The Double Cross - Dub
Peter Kurten & Malicious - Ultrasonics - Culture Assault