INFO STUFFS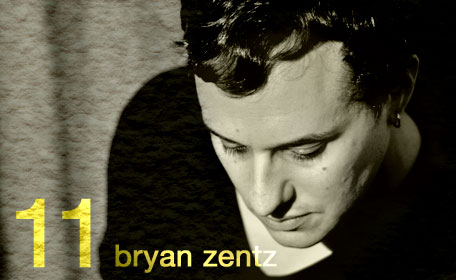 NAME
Bryan Zentz (aka Barada)
CITY
Portland
AFFILIATIONS
plus8 / cmyk musik / morris audio
GENRES
LINKS
AIRED
November 30th, 2009
MIX DESCRIPTION
Techno well-suited for the dancefloor; chuggy and bouncy with a touch funk
BIOGRAPHY
The most interesting musicians are those who remain constant and true to themselves come what may. An essential part of the daily ritual, music defines their very existence offering both spiritual and emotional release. Nevertheless, it's not always easy to follow your instincts especially when they fall outside the current mainstream sound but as Bryan Zentz proves, if your hand stays steady and your aim is pure the spotlight will return to you again.
Zentz touts an impressive discography, with releases on labels like Bush, Intec, Primate, Gormet. His 2009 release on Richie Hawtin's Plus 8 imprint brings his career full circle. It was Hawtin who originally gave Zentz the motivation and belief to keep the faith while working toward his first deal, which came in 1994 with a debut release on the legendary Definitive label.
In 2004 Zentz launched Disruptor, a label allowing him to fuse love of techno with love of dub. A string of critically acclaimed releases on Disruptor have since been complimented by his other projects, Stare 5 (CYMK) and Barada (Morris Audio).
TRACKLISTING
Nadja/BlackBonedAngel: "Untitled" 20BuckSpin
Scuba: "Reverse" Hotflush
Cheap and Deep: "Words, Breaths, And Pauses" Cheap And Deep
GummiHz: "Love Call feat Emena" Mobilee
Psycatron: "Deeper Shades Of Black" Planet E
Mark Broom: "Mist" Beard Man
PanPot: "Face to Face" Mobilee
Andre Winter " Dogma" Ideal
Mihalis Safras: "Interafrica (Mark Broom mix) Trapez Ltd
Ramadanman: "Refix" Immerse
Alex Under: "Mustang" Trapez
Mike Gervias: "Manly Forest" Solar Cathedral
Bryan Zentz: "Lokjaw" Plus8 Records
Adam Beyer and Par Grindvik: "Zoetrope" Drumcode
re:group: "AntiChance (Punisher Remix) Detroit Underground
Jesu: "Hard to Reach" Hydrahead