INFO STUFFS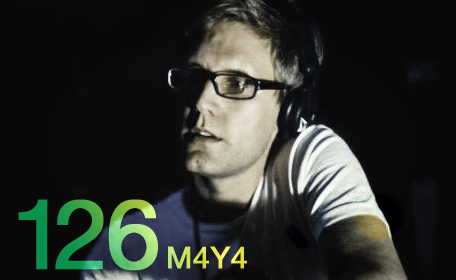 NAME
M4Y4
CITY
Prague
AFFILIATIONS
GENRES
LINKS
AIRED
July 30th, 2012
MIX DESCRIPTION
Schizo mix of dark and driving drum and bass with furious and intelligent jungle. Old school, meet new school.
BIOGRAPHY
M4Y4 (read as Maya) has been influenced by the electronic music since the end of 80s, early 90s by bands like Depeche Mode, KLF, NIN, FLA etc. In the middle of 90s he has been introduced to Goldie's first album Timeless which made him more aware to unknown music genre – drum and bass. That has led him to dig in more and to discover deeper and dark basslines within legendary Grooverider's compilation The Prototype Years, which should later play key role in his musical DJ progress. The sounds of golden Tech-step, neuro-funk era around 2000 is that what influenced him mostly to these days.
It's not a surprise that you will find a lot of old classics in his sets together with the hottest new singles. Dark corners, metal beats and heavy kicks will be always main parts of his sets though. Don't expect any mainstream stuff or wobbles which are so popular in the drum and bass scene these days.
He was involved as a promoter in co-organising unique music/visual DrumiX parties for several years thanks to which introduced names like Rockwell, Cyantific, SPOR, Logistics and many others (some for the first time) to the Czech crowd.
Since 2008 he is being part of the famous czech Shadowbox crew as a DJ, editor, photographer and a promoter. He has even started with his friend DJ Rudeboy their own radio show for RadioShadowbox called "Zero degrees podcast" last year.
He has become lately a new member of Let It Roll crew which is responsible for the biggest drum and bass festival in Europe.
TRACKLISTING
Strago - Only One Possible Future - Vampire
June Miller - Half Top Feelings (Amoss remix) - Horizons
Teebee - Quiet Moment - Subtitles
Basher & Xtrah - Hubble - Subtitles
Enei - Stonehead - Critical
Siren - Broken Silence - Siren
Icicle - Alien Groove - Shogun Audio
Dub Phizix - Never Been (feat. Fox) - Critical
Rockwell - Keep Calm - Critical
Skeptical - Cold One (Jubei remix) - Ingredients
BTK - Drop It - Dutty Audio
Ulterior Motive - Tesla - Subtitles
Matrix - Apache - Virus
Noisia & Teebee - Time Stops - Subtitles
Cause 4 Concern - Distress Signal - Full Force
Siren - Snorkel - Siren
Menace & Teknik - Rise & Fall - Renegade Hardware
Break - Hooked Up - Symmetry
Trace & Optical - Kridian - Virus
SKC - Recharger (Black Sun Empire remix) - Nerve
Break & Silent Witness - Rain Man - Commercial Suicide
Hive & Echo - Catalyst - Commercial Suicide
Vicious Circle - Instinct - Siren
Prolix - Funkhole - Commercial Suicide
Nymfo - Under Fire - Commercial Suicide
Break - Condenser - Symmetry
Ed Rush & Optical - Compound - Virus
Dose - Caffeine Dream - Subtitles
Inztance - She's Gone - Vampire