INFO STUFFS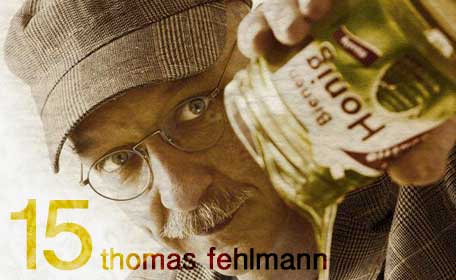 NAME
Thomas Fehlmann
CITY
Berlin
AFFILIATIONS
GENRES
LINKS
AIRED
December 21st, 2009
MIX DESCRIPTION
A thoughtful and interesting ambient mix
BIOGRAPHY
The roots of almost Thomas Fehlmann's almost 30-year-long career lie in his work with German avant garde band 'Palais Schaumburg' he co-founded with partner Holger Hiller. In the late-eighties he produced as Ready Made, and in the nineties he worked together with Basic Channel's Moritz Von Oswald and Juan Atkins as 3MB as well as started a partnership with Alex Paterson and The Orb. To various extents he has collaborated on all Orb albums.
Fehlmann produces a weekly radio show, OceanClubRadio, with Gudrun Gut and has been responsible for countless remixes and productions for a eclectic selection of artists ranging from Erasure to Einstuerzende Neubauten.
He moved to Berlin in 1984. After Palais Shaumberg split in '85, he dedicated himself to his home studio and the sampler, releasing records as Ready Made. In 1988 he founded the Teutonic Beats label, whose compilations featured early contributions from artists like Jörg Burger, Wolfgang Voigt, Moritz von Oswald, Sun Electric and Westbam. Through the label, Fehlmann became friends with Dr. Alex Paterson of The Orb. Fehlmann later contributed to many Orb releases, becoming a part-time member of the group.
In the 90s he was a resident at the legendary Tresor Berlin. Together with Moritz von Oswald and Juan Atkins he formed 3MB, helping to cement the Berlin-Detroit connection. Since 1995 he has been involved with the legendary Berlin-based Ocean Club, which has been broadcasting a radio show since 1998 – now worldwide.
This decade Fehlmann has produced two full length dub-ambient albums (Lowflow and Honigpumpe) as well as embarked on a neverending club tour, both by himself and together with Alex Paterson as The Orb. Recently Fehlmann extended his set up to two hours with the introduction of material from his Lowflow album, released on Plug Research in 2004, creating a long big wave from downbeat to his very own brand of – in the words of the village voice – green house.
– Resident Advisor
TRACKLISTING
RAYMOND SCOTT (manhattan research inc collection)
ERALDO BERNOCCI/THOMAS FEHLMANN (manual)
KLF (chill out)
PSI/ANTHONY ROTHER (flowing fehlmann rmx)
FFWD (FFWD)
Thomas Fehlmann - Untitled
THE ORB - OOPA (baghdad batteries)
THE ORB - TRAUMVOGEL (okie dokie)
THOMAS FEHLMANN - ATLAS (honigpumpe)
THE ORB - FALKENBRÜCK (okie dokie)
THE FIELD - KAPPSTA (popambient 2007)
VON OSWALD / FEHLMANN - schizophrenia
WOLFGANG VOIGT - M:1:5 37:26 (popambient)
THE ORB (okie dokie)
THOMAS FEHLMANN - T.R.N.T.T.F. (honigpumpe)
THOMAS FEHLMANN - DU FEHLST MIR (visions of blah)
...and many little bits inbetween