INFO STUFFS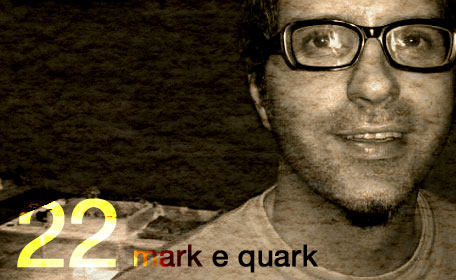 NAME
Mark E Quark
CITY
San Diego
AFFILIATIONS
GENRES
Deep House / Disco / Funk / House
LINKS
AIRED
February 22nd, 2010
MIX DESCRIPTION
2 hours of superbly programmed house, disco, funk and electronic
BIOGRAPHY
In 1988, at the tender age of 18, Mark E. Quark began his DJ career by playing substitution slots at KCR FM, one of only 2 underground radio stations in San Diego. Later that year he and and his friend Gregg Pope were given their own Acid House show KSDT FM college radio in San Diego, CA. By 1989, he was a resident DJ in San Diego's premier nightclub, SOMA, playing acid house, industrial, disco, and other varieties of electronic dance music. During his three year residency at SOMA, he was responsible for increasing the clientele on a typical Saturday night from 200-300 people to 800-1000 people.
By 1990 he had already begun to phase out the industrial sound and began to play strictly acid house, Belgian beat, and techno, which contributed to the steady crowd for the next few years. In 1991, while maintaining his residency at SOMA, he collaborated with roommate/soundman, Brian Weinberg and Playskool's Paul Smith to turn a 6,000 ft. warehouse space in to an underground club venue. The party was called "Ware's The House" and set the foundation for what was to become the SD rave scene. In 1992, he was offered a residency in a popular downtown club called Club Geraldine's where he maintained a steady and increasing audience for 2 years. After being offered a residency at Playskool, another popular downtown club, he stopped working at SOMA and Club Geraldine's. He remained a resident DJ at Playskool for over 4 years, building up one of San Diego's biggest house nightclubs. Mark was eventually maintaining his own night called G-Force at an underground club, The Flame.
He contributed to the club's increasing popularity for over 4 years and gained an extremely devout following. Although he was successful in San Diego, he wanted to be closer to where house music was more widely embraced. He also wanted to challenge himself in a city filled with other talented djs that were integral in inspiring his passion and love for the genre. As a result, Mark moved to San Francisco in 1996. In San Francisco, he quickly gained respect and played at legendary parties such as The Gathering, Basics, By the People's Out Of Sight parties, Stompy Dig In, and Sunset. In addition, Mark began a weekly Sunday night called Bionic Peanut Butter at The Top along with djs, Solar and IZ (Chicago). Mark began traveling throughout the United States and Canada as well as Europe, receiving resounding credit in France, where he played at the legendary Rex Club and Batofar. He has played alongside DJs such as Doc Martin, Derrick L. Carter, Lil Louie Vega, Kenny Hawkes, Gemini, Onionz, Dan Ghenacia, Hipp-E, Justin Harris, Phil Weeks, Hector Morales Mark Farina, the wicked crew, Halo and even Richard James(Aphex Twin) and Moby. The list goes on. He then moved to Seattle to concentrate on building up his own music studio, producing music of his own. He already has 4 records to his credit. His latest single, The Midnight Movers on Facade, has been getting major club support from the likes of Fries And Bridges, DJ Harvey, East Coast Boogiemen, Doc Martin, and Halo. Not bad for a record where there were only 3 test pressings made. He's now helping bulding up Facade and back in San Diego ready to rock the West Coast again…and beyond.
TRACKLISTING
Jine - Take It TO The House (Supertronics, 1987)
Lola – Wax The Van (Jon's Dub) (Jump Street, 1987)
Mary Wilson - Nah, That's Hot Man (Donald Bumps Edit) (Motown, 1979)
40 Thieves - Theme From Nutrider (Permanent Vacation, 2008)
B.W.H. - Stop (Nathan Wilkins & Midnight Mike Mix) (Eskimo, 2004)
NDB - Neurotic Erotic Adventure (Wurst, 2009)
The Revenge - Heavy Love (Instruments Of Rapture, 2009)
Donald Byrd - Love Has Come Around (Special Disco Version) (Elektra, 1980)
Joubert Singers - Stand On The Word (Hot Coins Remix, 2009)
Try To Find Me - Get To My Baby (Golf Channel, 2009)
Claudja Barry - Sweet Dynamite (Salsoul, 1976)
Ulysses - Latin Combo (Wurst, 2009)
Session Victim - Tommorrow Night (Delusions Of Grandeur, 2010)
Locussolus – Gunship (International Feel, 2010)
G.B. & The Tracks - Woman (It's a Fine Line Edit) (History Clock, 2008)
Next Evidence - The Joint (Basic, 2004)
Runaway - Jungle Mix (??, 2009)
Zwicker – Oddity (Compost, 2009)
Hercules - 7 Ways (Dance Mania, 1986)
Shit Robot - Simple Things (Dfa, 2009)
Laughing Light Of Plenty - The Rose (WhateverWeWant, 2009)
Plein Soleil - Casus Belli (Live At Robert Johnson, 2009)
Discodeine - Ring Modulator (Dark & Lovely, 2008)
Pollyester - The Indian (Permanent Vacation, 2009)
Tussle - I'm An Indian Too (Yesca, 2005)
The Revenge - Just Be Good to Me (Needwant, 2009)
Lindsey Buckingham – Trouble (Edit De Prince Language) (Editions Disco, 2009)