INFO STUFFS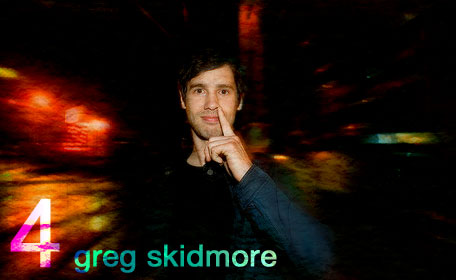 NAME
Greg Skidmore
CITY
Seattle
AFFILIATIONS
lone wolf
GENRES
Dubstep / Electro / IDM / Techno
LINKS
AIRED
September 30th, 2009
MIX DESCRIPTION
Uber evil electro/idm mix from Seattle's Greg Skidmore with hints of dubstep & jungle
BIOGRAPHY
Greg Skidmore is quite possibly one of Seattle's most under-rated DJs. A well-known favorite of "chin strokers" and dancers alike, he is a sound enthusiast whose earliest electronic music influences include Aphex Twin, Luke Vibert, Richie Hawtin, and most notably, Anthony Rother. His musical palette is deep and his skill is precise with key elements of electro, IDM, breaks and other forms of dancefloor electronics. Not everything he plays is meant for the floor, however, as mentalism, ambient, glitch and other experimental music is exposed as well.
The Stranger had this to say about Skidmore's contribution to Plasmodium Radio (also known as Desperate Measures):
Local DJ Greg Skidmore has a new mix up here. It's a gut-wrenching journey through some of electro's crunchiest, darkest realms, with side trips into merciless dubstep alleys. The mix's title—Desperate Measures—reflects the overall atmosphere of this 23-track lesson in highbrow, low-end, electro brutality. The segues are seamless and the selections impeccable: typical Skidmore quality.
Skidmore's sets revel in darkness and menace, yet there are times of grace and optimism. Challenging the sonic sensibilities of an audience is the main objective. Bring your first-aid kit and plugs, but don't forget your happy feet.
TRACKLISTING
Zeller - "Thortheory" - Audio Vandalism (Hymen)
Somatic Responses - "Takayama (Another Rainy Day)" - Miwak Twelve (Hymen)
Cane - "Non-Fiction" - Non-Fiction (Creative Space)
Lowfish - "Wreckage" - Miwak Twelve (Hymen)
Nomadic - "Anxiety" - Subsidence (Touchin' Bass)
Scanone - "Atlas" - 2 Paths Of Rage (Combat Recordings)
Zeller - "Cavern Sunshine" - Audio Vandalism (Hymen)
Nymate Association - "System Online" (C. Mantle Remix) - Stractic Remixed EP (Subgrade)
Badaszewski - "Future Dictator" (Cursor Miner Remix) - Future Reminiscence (Digital Distortions)
Modeselektor - "The Black Block" (Byetone Remix) - Happy Birthday! Remixed #2 (BPitch Control)
Black Lung - "The Hostmen Of Tyne" - Miwak Twelve (Hymen)
Hac[k] The Tab - "...Is Back" (The Wee DJs Remix) - ...Is Bac[k] ([k]rack-troni[k])
Scanone - "Kick It" (The Wee DJs Rework) - The Dark Horse Dubs (Combat Recordings)
Marching Dynamics - "Bizango Datura" - The Workers Party Of Haiti (Hymen)
Heuristic Audio - "Frantic" - Shaded Mind (Satamile)
Al Tourettes - "Sassafrass" - Troglodyte ([k]rack-troni[k])
Mnemonic - "Prototyp" - Emerging Organisms Vol. 2 (Tympanik Audio)
Al Tourettes - "Troglodyte" - Troglodyte ([k]rack-troni[k])
Marching Dynamics - "Almighty Bomb" - Miwak Twelve (Hymen)
Access to Araska - "xt10.20zp9" - Miwak Twelve (Hymen)
Funckarma - "Fraid Shim" - Vell Vagranz (n5MD)
DJ Hidden - "Things To Come" - Emerging Organisms Vol. 2 (Tympanik Audio)
Hecq - "I Will Survive" (feat. Nongenetic) - Steeltongued (Hymen)