INFO STUFFS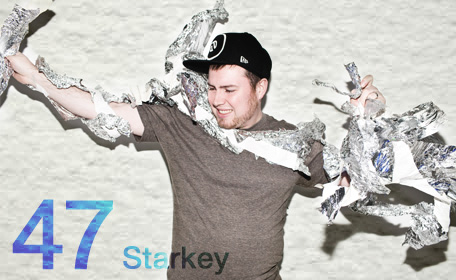 NAME
Starkey
CITY
Philadelphia
AFFILIATIONS
Seclusiasis / Slit Jockey / Planet Mu
GENRES
LINKS
AIRED
August 16th, 2010
MIX DESCRIPTION
Decibel Festival preview: Dirty dubstep with mad street cred
BIOGRAPHY
PJ Geissinger aka Starkey is blessed with musical arrangement skills that would leave most composers green faced with envy. This combined with his high production ethic makes him a formidable force not only in the underground but also as a super producer of the future. Starkey is yet another example of what the streets of Philadelphia can create — his sound hits hard and is littered with bass and colourful audio frequencies. If you like grime, dubstep, hip hop and all things "street bass" then Starkey's hard edged spaced out crunk is the sound for you.
Starkey is co-owner of the Seclusiasis and Slit Jockey Record imprints, a member of the Trouble & Bass Crew, radio host on Sub FM and is a true tastemaker of the bass-heavy underground. In 2008, he was the only non-UK DJ to be chosen selected by Vex'd as one of seven new DJs for Radio 1's MARY ANNE HOBBS' low end special 'Generation Bass.' He was recently chosen to create a track in the space of 2 hours live on Radio 1, after which the track received daytime radio play and was garnered top reviews across many channels.
His discography keeps growing and houses an impressive list of heavyweight names. Recent remixes include Armand Van Helden, Gorilla Zoe, Uffie, Tempa T, Zomby, Inner Party System, The Constellations, Kano and The Foals and upcoming mixes with Missy Elliot, MIA, Britney Spears, Fatima, Dizzee and more. Keep an eye out for Starkey's forthcoming Robot Hands EP on Civil Music and his Tinie Tempah remix.
ABOUT DECIBEL FESTIVAL
Starkey will be performing at Decibel Festival, an electronic music and arts festival held over 4-days in Seattle, WA every September. In addition to the smattering of day and nighttime music events, Decibel also hosts industry mixers, workshops, panel discussions, visual art installations and multimedia performances. Now in its 7th year, Decibel Festival is known for presenting top quality international acts and rising stars from various genres. This year's line-up will tally over 100 artists from 16 countries, comprising 28 individual showcases over 11 venues. For more information, news and up-to-date showcase and line-up announcements, visit dbfestival.com
TRACKLISTING
Starkey "Craters" (dub)
Starkey "Gasping For Air in this Vortex" (dub)
Stagga "Be the Generals" (dub)
Distal "Oil" (dub)
Lil Jon "Fall out (ft. Travis Porter)" (BME)
Kid Simple "Meltdown" (dub)
Tayo meets Acid Rockers ft. Pupajim "Vampayaa (Starkey remix)" (rub a dub)
Dev79 "Live N Die 4 The Street Bass" (Seclusiasis)
Starkey "Spacecraft" (Planet Mu)
Monky "Train Wreck" (dub)
Phra "Clean Shave" (dub)
Sduk "Valid" (Slit Jockey)
Rick Ross "B.M.F (ft. Styles P)" (Def Jam)
Starkey "11th Hour" (Planet Mu)
AC Slater "Calm Down Part 2" (Trouble & Bass)
Starkey "Rain City" (Rwina)
Starkey "Club Games (ft. Cerebral Vortex & Buddy Leezle)" (Planet Mu)
Kastle "Better Off Alone" (Seclusiasis)
Innerpartysystem "American Trash (Starkey remix)" (Independent)
Starkey "Holodeck" (dub)
Young Jeezy "Jizzle (ft. Lil Jon)" (Def Jam)
Terror Danjah "Horror Story" (Planet Mu)
Starkey "Megabot" (dub)
Siyoung "Eros (Hit That)" (Seclusiasis)
Dev79 "Disco Fly" (Seclusiasis)
Stagga "Wild For the Night" (dub)
Halp "Leek (Doshy remix)" (Seclusiasis)
Starkey "Sector 9 Shootout" (Starkey free release)
Flinch "Midnight Hustle (AC & Dell Starkey VIP remix)" (Party Like Us)
Pinch "The Boxer" (Tectonic)
Smokey & Casper "CrispCrisp (BD1982 remix)" (Vermin Street)
Raffertie "A Breath That Finds You" (dub)
Kaiser "The Art of War" (Slit Jockey)
Grimelock "Answer" (dub)
Drokkr "Poppin Shit" (dub)
DJ Naughty "Goosebumps (Gemmy remix)" (Kicks and Snares)
NastyNasty "Sore Loser" (dub)
Eligh ft. Marty James "Suffocate (prod. by Starkey)" (Legendary Music)
Eprom "Psycho" (dub)
DJ Wool & Cerebral Vortex "Magic Carpet (Starkey remix)" (Top Billin)
Slugabed "PO" (dub)
Starkey "Drip" (Creative Space)