INFO STUFFS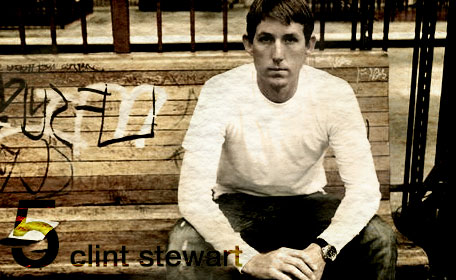 NAME
Clint Stewart
CITY
San Francisco
AFFILIATIONS
Auralism Records / Nightlight Music
GENRES
LINKS
AIRED
October 12th, 2009
MIX DESCRIPTION
Deep & sexy tech-house from San Fransisco's Clint Stewart
BIOGRAPHY
In a sea of heads, Clint Stewart can't contain his enthusiasm. "It's an amazing time for dance music," says the Auralism assistant label manager. "There's so much good music and an endless list of people making it. It's inspiring." The Florida-born DJ / producer / promoter is true to his word, commanding crowds with ease and producing sexy, gauzy cuts that exhort everyone to dance.
Growing up in a home surrounded by the sounds of classical music to classic rock and early blues, he began training in classical piano and guitar. Over time Stewart's adolescent obsession with punk's passion and aggression ("I hated dance music") led to a college-age awakening to techno's dark, relentless groove. A stint on UNF College Radio Station gave him the opportunity to start Nocturnal Underground radio show where he met Marc Smith. After college he moved to Miami and began eventually joining forces with Auralism co-founders Marc Smith and Jason Short and playing at their residency at Jazid. Within the year, Stewart moved to Hawaii for a brief stint to "get away", but was soon living in San Francisco after a gig in which he never stepped foot on his return flight.
Since joining the Auralism camp, Stewart has been "going 100 miles an hour, all day, every day," playing high-profile DJ gigs with top artists among as well as a particularly sizzling set at SF's annual LoveFest. In addition pounding the pavement for Auralism, Stewart has a growing list of productions out there, including a pair of ecstatic remixes for the label's inaugural Aural Therapy 1.1 compilation. That's a lot of work for a short time in a new town, but master multi-tasker Stewart's just getting started.
TRACKLISTING
Patrick Chardonnet - Dropout [Audiomatique Records]
Culoe De Song - Inspiration [Mule Musiq]
Michael J. Collins - Thank You & Fuck You [Wolf + Lamb]
Dan Curtin - Other [Mobilee]
Ricardo Villalobos - What You Say Is More Than I Can Say (Speak and Spell Long End Isolee Remix) [Sisterphunk]
Robytek - Luna Africa (Roland Appel Remix) [Rebirth]
dOP - 365000 Days [NRK]
Oculus - LR [AFULAB]
Home & Garden - Domesticated (Pezzner Remix) [Plastic CIty]
Culoe De Song - The Fallen Shiren [Mule Musiq]
Flying Lotus - Parisian Goldfish [Warp Records]