INFO STUFFS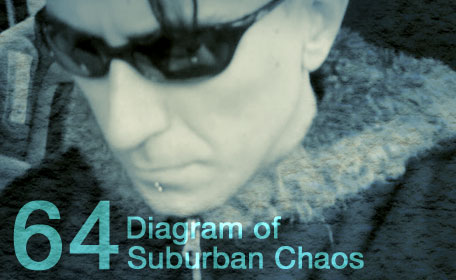 NAME
Diagram of Suburban Chaos
CITY
Seattle
AFFILIATIONS
GENRES
LINKS
AIRED
January 2nd, 2011
MIX DESCRIPTION
A stunning and sometimes dark mix of downtempo, ambient and IDM
BIOGRAPHY
There may be a million stories in the naked city, but William Collin Snavely (Diagram of Suburbam Chaos or DOSC) believes they've got nothing on the weirdness that thrives on the periphery of every great metropolis. There are also countless dreams that go unfulfilled, and undercurrents of "despair and loneliness" that run just as strong in the land of two-car garages and manicured lawns.
These conflicting emotions form the crux of his work. The music features ear-catching, otherworldly timbres and skittering, erratic lines of tactile, textured beats set against backdrops of three- and four-note motifs fashioned from tone colors as vivid as any hues found in Georgia O'Keefe's painting, stretched into hypnotic vapor trails. The vivid imagery that seems to imbue each of his tracks is just as essential to the music's aesthetic as the specific sounds that suggest the pictures.
"They develop in parallel," says Snavely, who also loves graphic design, photography, and film. "I'll be writing a track, and as I'm writing, I'll think of the exact movement an individual or subject might be making, or how the scene should look."
While many composers of instrumental electronic music baldly deny any intentional emotional or programmatic content in their work, Snavely insists his work is crafted with both a narrative and vivid feelings in mind.
TRACKLISTING
Plateau - K2 - Subconscious Communications
Plaid - Dead Sea - Warp
DOSC - Untitled - Unreleased
Plaid - White's Dream - Aniplex Inc.
DOSC - Sounds for the hole in your head - Unreleased
DOSC - Untitled - Unreleased
DOSC - Nerve Cycle - Audiobulb
DOSC - Ghosty Smoothie - Unreleased
DOSC - Seize and Reload - Unreleased
DOSC - Futile - Unreleased
Aphex Twin - Icct Hedral (Philip Glass Version) - Warp
DOSC - AM-Schiz - Unreleased
DOSC - Untitled - Unreleased
Plaid - Masato Shuffle - Beat Records
DOSC - Atoms Apart (slow) - Unreleased
DOSC - Giving In - Unreleased
The KLF - 3 A.M. Somewhere Out of Beaumont - KLF Communications
Download - Base Metal - Subconscious Communications