INFO STUFFS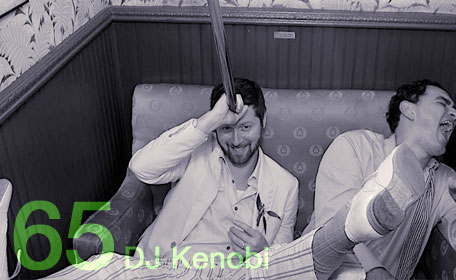 NAME
DJ Kenobi
CITY
Brooklyn
AFFILIATIONS
Haus Breuckelen Recordings
GENRES
LINKS
AIRED
January 10th, 2011
MIX DESCRIPTION
The Jedi Code. Classic Downtempo and Trip-Hop with and infusion of Oldschool Brooklyn Hip-Hop ranging two decades.
BIOGRAPHY
Forming a passion for music at an early age, Kenobi, aka Nathan Ursch has been behind the decks for almost two decades. In the 80's he noticed an overwhelming addiction to anything made with electronic instruments. The instrumental mix or bonus beats tracks of the time always seemed better and more listen-able. Inspired by the early 90's jazz breaks movement in hip-hop, Kenobi was inspired by the hippie funk of De La Soul while understanding the raw technique of capital jams from Digable Planets and Rakim. "It was all over after that," states the Jedi.
Originating from the Mid-West, Kenobi has planted his musical influence in the Northwest, Bay Area, Berlin and now New York City. Always experimenting with genres ranging from Downtempo, Hip-Hop, Broken Beat, all forms of House, Deep Techno and whatever fascinates his ear. With strong music influences ranging from Chicago House, Detroit Techno and Hip-Hop, Bossa Nova, 70's Rare Groove and Tribal Rhythms; Kenobi has enough in his arsenal to keep his listeners interested. Acute programming skills, and the overwhelming urge to push himself, Kenobi constantly surrounds his daily life with a sense of refinement. Well versed in Futurism, Modern Architecture, Mid-Century Design, Japanese Minimalism, Swiss Typography and the science of nature itself, there's a noticeable language of design that translates into his musical taste. Kenobi spends his days consulting on interior design projects throughout the city along with making tasteful playlists for designer showrooms.
TRACKLISTING
Photek - Into the 90's - Metalheadz
Show & AG - Suspended In Time (Instrumental) - Payday
Dabrye - Making It Pay - Ghostly International
Urban Tribe - Eastward - Mo Wax
DJ Krush - Meiso (Original Mix) - Mo Wax
The Prunes - The Night Side - Mo Wax Excursions
The Jigmastas - Dead Man Walking (inst.) - Beyond Real
DJ Smash - Gimme Some - New Breed
DJ Cam -Dieu Reconnaitra Les Siens - Street Jazz Productions
Luke Vibert - Dance Music - Mo Wax
Gang Starr - DWYCK (Album Version) - Chrysalis
Sam Sever And The Raiders Of The Lost Ark - Do You Understand? - Mo Wax
Digable Planets - Cool Like Dat (Wicked Mix) - White Label
Reborn - Right To Be (Original Rockers Epic Mix) - Island Records
Blackmoon - Buck 'em down ((Da Beatminerz Remix) - Wreck Records
Air - Modular (DJ Cam's No Protection Remix) - Source Records
Blackmoon - Who got the props? (Evil Dee's Deadly Mix) - Nervous Records
La Funk Mob - Ravers Suck Our Sound (N.O.W. Mix) - Mo Wax
Tek 9 - Is It On? (DJ Cam Mix) - SSR Records
9 lazy 9 - Take Nine - Ninja Tune
Kenny Dope - Mr. Dope - W. Records Inc.
DJ Spinna - Nostalgia - Up Above Records
Kenny Dope - Get on Down - TNT Records
Nightmares On Wax - Pudpots - Warp Records
Gang Starr - Code Of The Streets (Album Version) - Chrysalis
Headnodic - Broccoli - Insidious Urban Records