INFO STUFFS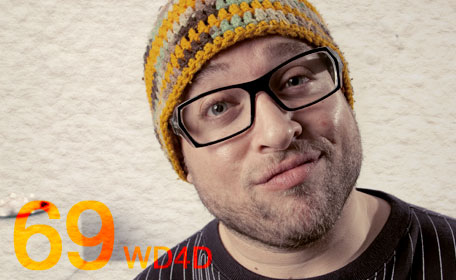 NAME
WD4D
CITY
Seattle
AFFILIATIONS
Stop Biting / Theorem / Fourthcity
GENRES
LINKS
facebook / soundcloud / bandcamp
AIRED
February 7th, 2011
MIX DESCRIPTION
Instrumental hip hop tossed with bass and 8-bit playfulness
BIOGRAPHY
WD4D aka Waylon Dungan is one of Seattle's most talented and ambitious beat scientists whose bold style has injected new sonic fusions into the city's hip hop and electronic music communities. Versatile and always fresh, WD4D's sound ranges from left-field experimental beats and funky upbeat dance music to jazzed-up hip hop and soulful underground rap.
Producing and DJing for almost sixteen years, WD4D was recently dubbed "The Feel-Good DJ of the Decade" by Seattle's The Stranger newspaper. This innovative producer's dedication to his craft has resulted in an impressive discography; his debut album Some Assembly Required (2005) was followed by a slew of both signed and unsigned releases, including his latest EP Post-Hyphy-Romanticrunk (2010) that features a crew of female vocalists from the area.
A skilled turntablist who embraces both the digital and vinyl realms, WD4D takes unpredictable twists and blasts the hinges off genre definitions with his inventive and eclectic style. Not only a knowledgeable producer but an engaging performer as well, WD4D was named champion of Seattle's 2010 Battle of the Mega-Mixes. Deeply involved in the local arts scene, WD4D has released music on Seattle-based label Fourthcity, and also scored the original music for the theatrical dance performance In Fere.
When he is not pushing forward his unique beat-flipping sound, WD4D is supporting the musical community and promoting other artists who blend futuristic hip hop with electronic possibilities. One of the founding DJs of KBCS 91.3's Saturday night Zulu Radio, WD4D has co-hosted the popular radio program for five years. This busy producer is also a resident at the weekly future beat and breakers party Stop Biting, one of the most forward-thinking nights of music in the city.
With plenty of initiative and industry savvy to match his sharp production skills, WD4D is an unstoppable force that brings new music to light- and then sets it on fire. Look for more beat-heavy badness in the clubs, on the radio and in the studio from WD4D as he further develops his original sound and his presence on the international electronic stage continues to expand.
TRACKLISTING
OCnotes - MDMA - indie
Shlohmo - Pretty Boy Swag (Soulja Boy Remix) - Friends of Friends
Tiago - Babel Fish - Beat Dimensions
Gumar & His Magical Midi Band - Sliding Down Rainbows (The Great Mundane Remix) - Dropping Gems
Moresounds - Days n Days - indie
Joob - Galactic Geek - indie
Lokid - Dirty Sexy - indie
Robot Koch - Devil Drums (Alex B. Remix) - Friends of Friends
Tokimonsta - Park Walks - All City
Thriftworks - Wang Roll - indie
Two Fingers - Fools Rhythm - Ninja Tune
DZA ft. Non & Mujuice - Bullseye (Dizz 1 Instrumental)
Cuthead - Down to Molecules - indie
OCnotes - Innocent to Insolent - indie
Blu Jemz - Hvrkraft (Computer Jay Remix) - indie
Debruit - I'm Goin' Wit' You (ft. Om'Mas Keith & Jamie Woon) - Civil Music
Kidkanevil - One For Tokyo - indie
Radixx - Cigar Bun - indie
Duke Hugh - Come Up (ft. Levi) - indie
DZA - Fireball - Finest Ego
Fulgeance - Analove - indie
Grillo - Shoryuken - indie
Krts - Love or Logic - indie
Blank & Kytt - Breaths & Stuff
Bomb Zombies - F.W.U.H. - Alpha Pup
Cex - Secret Monog (Baconhead Remix) - Tigerbeat6
Teebs - Archway (bull shit version) - indie
Themselves - You Ain't It (Lazersword Remix) - Anticon
SeePM - Bike Boogie - indie
The Mahavishnu Orchestra - The Power of Love (Om Unit's 5am Dub) indie
Wiley - Get Out My Life (instrumental) - indie
Veux - Late Key - Leaving Records
Star Slinger - Slow 'N' Wet - indie
OCnotes - Come With Me (Welcome to Planet America) - indie
Strangeloop - Wouldn't It Be Nice (Beach Boys) - Friends of Friends
Isley Brothers - Contagious (Cuthead Remix) - indie
Olivier Daysoul - In The Now - Odd Music
Slugabed - Drips - indie