INFO STUFFS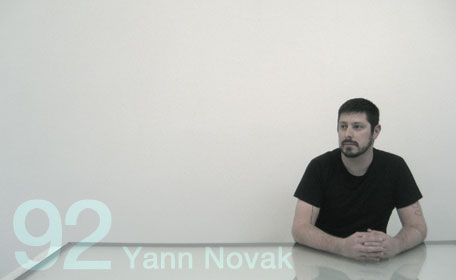 NAME
Yann Novak
CITY
Los Angeles
AFFILIATIONS
Dragons Eye / Hibernate / LINE
GENRES
LINKS
AIRED
August 1st, 2011
MIX DESCRIPTION
Drone ambient peppered with delicate sounds drawn from Yann's time living in LA off an industrial thrall fare
BIOGRAPHY
Yann Novak is a sound, video and installation artist living and working in Los Angeles. His work utilizes different forms of digital documentation as a point of departure. Through the digital manipulation of these sound and image files, his works serve as a translation from documents of personal experiences into an open ended autobiographical narrative. By choosing subject matter that is also relatable to the audience, Novak's work creates a hybrid state, balancing between his own personal history and that of the audience.
Novak's solo and collaborative sound works have been published on 14 CD and CD-R releases on such labels as Dragon's Eye Recordings (CA), Infrequency Editions (Canada), Koyuki (Italy), LINE (DC) and White.Line Editions (United Kingdom). His sound works have also appeared on 17 international sound art and electronic music compilations on labels such as Mandorla (Mexico), Untitled & After (CA), The Wire (United Kingdom) and others.
Novak's performance work have been experienced internationally at sound art/electronic music festivals including the Decibel Festival (WA), Forward Festival (DC), Mutek Festival (Montreal, QB), Resonant Forms Festival (CA), Soundwalk (CA) and at art venues and museums including the Fiske Planetarium (CO), Highways Performance Space (CA), Los Angeles County Museum of Art (CA), Oboro (Montreal, QB), The Stone (NY), Torrance Art Museum (CA) and others.
In 2005, Novak re-launched his father's Dragon's Eye Recordings imprint with a new focus on limited edition releases by emerging and mid-carrier sound artists, composers and producers. Since its re-launch, Dragon's Eye Recordings has published over 60 releases and has received critical acclaim.
TRACKLISTING
TU M' - Monochrome # 00 - TU M'Archive
Robert Crouch - Firehouse I - Dragon's Eye Recordings
Lawrence English - Soft Fuse - Touch
Scott Cortez - Part III - LINE
Stephan Mathieu - A Pillow For Sue - Tigerbeat 6
Robert Curgenven - Acciaccatura Amplificata - LINE
Sublamp - Hiding Song - Hibernate Recordings
Tim Hecker - Blue Ember Breeze - Room 40
Stephan Mathieu - Physiocontrol © + ® (Advance, Bar, Beam, Boom) - Synchron